---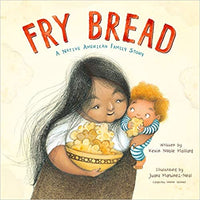 by Kevin Noble Maillard, illustrated by Juana Martinez-Neal
Roaring Brook Press
10/22/2019, hardcover
SKU: 9781626727465
Winner of the 2020 Robert F. Sibert Informational Book Medal
A 2020 American Indian Youth Literature Picture Book Honor Winner
Told in lively and powerful verse by debut author Kevin Noble Maillard, Fry Bread is an evocative depiction of a modern Native American family, vibrantly illustrated by Pura Belpre Award winner and Caldecott Honoree Juana Martinez-Neal.
Fry bread is food.
It is warm and delicious, piled high on a plate.
Fry bread is time.
It brings families together for meals and new memories.
Fry bread is nation.
It is shared by many, from coast to coast and beyond.
Fry bread is us.
It is a celebration of old and new, traditional and modern, similarity and difference.
A 2020 Charlotte Huck Recommended Book
A Publishers Weekly Best Picture Book of 2019
A Kirkus Reviews Best Picture Book of 2019
A School Library Journal Best Picture Book of 2019
A Booklist 2019 Editor's Choice
A Shelf Awareness Best Children's Book of 2019
A Goodreads Choice Award 2019 Semifinalist
A Chicago Public Library Best of the Best Book of 2019
A National Public Radio (NPR) Best Book of 2019
An NCTE Notable Poetry Book
A 2020 NCSS Notable Social Studies Trade Book for Young People
A 2020 ALA Notable Children's Book
A 2020 ILA Notable Book for a Global Society
2020 Bank Street College of Education Best Children's Books of the Year List
Reviews:
"A wonderful and sweet book [that] takes a staple food of many tribes across the country and uses it to think about family, history, memory and community. . . Lovely stuff." --The New York Times Book Review
"With buoyant, heartfelt illustrations that show the diversity in Native America, the book tells the story of a post-colonial food, a shared tradition across the North American continent . . . Through this topic that includes the diversity of so many Native peoples in a single story, Maillard (Mekusukey Seminole) promotes unity and familiarity among nations. Fry bread is much more than food, as this book amply demonstrates." --Kirkus Reviews, starred review
"Fry Bread celebrates the thing itself and much, much more . . . Maillard and Martinez-Neal bring depth, detail, and whimsy to this Native American food story, with text and illustrations depicting the diversity of indigenous peoples, the role of continuity between generations, and the adaptation over time of people, place, and tradition." --Booklist, starred review
About the authors:

Kevin Noble Maillard is the debut author of Fry Bread, published by Roaring Brook/Macmillan. He is also a regular writer and former contributing editor to the New York Times, with additional writings in The Atlantic, Essence, and The Week. He has provided on-air commentary for MSNBC, CNN, ABC, and Al Jazeera. Currently based in Manhattan, New York, he splits time between the city and upstate New York, where he is a tenured professor of law at Syracuse University. A graduate of Duke University and Penn Law School, he also earned a PhD in Political Theory from the University of Michigan. Originally from Oklahoma, he is an enrolled citizen of the Seminole Nation.
Juana Martinez-Neal is an illustrator of books for children, including the Pura Belpre Award winner La Princesa and the Pea. She made her authorial debut in 2018 with Alma and How She Got Her Name, which was awarded the Caldecott Honor. Juana was born in Lima, Peru, where she grew up surrounded by amazing meals prepared by her mom and amazing paintings made by her dad and grandad. She now lives, eats, and paints in Scottsdale, Arizona, surrounded by her amazing children.