---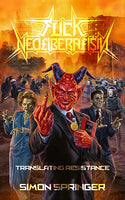 by Simon Springer
PM Press
2/2/2021, paperback
SKU: 9781629637891
In a long history of ruination and destruction, neoliberalism is the most recent and virulent form of capitalism. This book is a call to action against the most persistent and pestilent disease of our time. Translated into over twenty different languages, the book offers a call to action that transcends local contexts and speaks to the violent global conditions of our neoliberal age.
Fuck Neoliberalism: Translating Resistance is a worldwide middle finger to the all-encompassing ideology of our era. The original essay sparked controversy in the academy when it was first released and has since spread around the world as enthusiastic rebels translated it into their own languages. This book brings those translations together, accompanied by short essays from each translator explaining why they translated the text and describing struggles against neoliberalism in their regions.
With translations into languages from across the globe, including Mandarin, German, Indonesian, Spanish, Hindi, Italian, Korean, and many more, this book highlights the international nature of resistance to the totalitarian ideology of neoliberalism. Featuring a cover produced by renowned artist Ed Repka (a.k.a. the King of Thrash Metal Art), this internationalized, heavy-metal rant against the all-powerful ideology highlights a chink in its armor. When people across the world find a way to communicate a shared message and stand together, resistance can be both beautiful and inspiring.
Reviews:
"In this rather brilliant essay, Springer joyfully calls time on the long night of neoliberal fuckery. By invoking a spirit of freedom, nonviolence, solidarity, and hope Fuck Neoliberalism invites us all to find ways to tramp the dirt down on the grave of neoliberalism and play our part in ensuring that all life on this beautiful planet can flourish once again." —Richard J. White, coeditor of the Anarchism, Geography and the Spirit of Revolt trilogy: The Radicalization of Pedagogy, Theories of Resistance, and The Practice of Freedom
"In Fuck Neoliberalism, Springer takes aim at more or less everyone (himself included) who continues to reproduce the power of the neoliberal cop in our head. By thinking and saying the simple phrase 'fuck it,' he argues, we can affirm our rejection, our critique of neoliberalism, but also crucially a desiring energy to create other ways of thinking, being, and doing beyond neoliberal logics. Not even writers of blurbs to be printed on the back of books are exempt from Springer's powerful and provocative call to arms. And on that note, fuck it, I'm outta here." —Anthony Ince, lecturer in Human Geography at Cardiff University
About the Author:
Simon Springer is professor of human geography and director of the Centre for Urban and Regional Studies at the University of Newcastle, Australia. His research agenda explores the social and political exclusions that neoliberalism has engendered, particularly in post-transitional Cambodia, where he emphasizes the geographies of violence and power. He cultivates a cutting-edge theoretical approach to his scholarship by foregrounding both poststructuralist critique and a radical revival of anarchist geographies.