---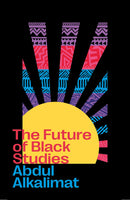 by Abdul Alkalimat
Pluto Press
7/20/2022, paperback
SKU: 9780745347004
The marginalization of Black voices from the academy is a problem in the Western world. But Black Studies, where it exists, is a powerful, boundary-pushing discipline, grown out of struggle and community action. Here, Abdul Alkalimat, one of the founders of Black Studies in the US, presents a re-imagining of the future trends in the study of the Black experience.
Taking Marxism and Black Experientialism, Afro-Futurist and Diaspora frameworks, he projects a radical future for the discipline at this time of social crisis. Choosing cornerstones of culture, such as the music of Sun Ra, the movie Black Panther and the writer Octavia Butler, he looks at the trajectory of Black liberation thought since slavery, including new research on the rise in the comparative study of Black people all over the world.
Turning to look at how digital tools enhance the study of the discipline, this book is a powerful read that will inform and inspire students and activists.
Reviews:
"Alkalimat's unique talent and skill is to unpack, make accessible and organize layers of knowledge. He is encyclopedic, radical, yet accommodative of all streams of Black Liberation." --Vusi Mchunu a.k.a. Macingwane, South African poet, Chairperson of the Freedom Park Council
"A timely, future-oriented and necessary contribution which provides clarity to the multi-valent tendencies in this field. Abdul Akalimiat, a long-standing practitioner and laborer in the trenches offers an updated and much-needed inquiry." --  Carole Boyce Davies, prize winning author and Professor of Africana Studies and Literatures in English at Cornell University
About the Author:
Abdul Alkalimat is a founder of the field of Black Studies and Professor Emeritus at the University of Illinois at Urbana Champaign. A lifelong scholar-activist with a PhD from the University of Chicago, he has lectured, taught and directed academic programs across the US, the Caribbean, Africa, Europe and China. His activism extends from having been chair of the Chicago chapter of the Student Non-Violent Coordinating Committee (SNCC) in the 1960s, to a co-founder of the Black Radical Congress in 1998.