---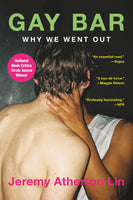 by Jeremy Atherton Lin 
Back Bay Books
05/31/2022, paperback
SKU: 9780316458757
As gay bars continue to close at an alarming rate, a writer looks back to find out what's being lost in this intimate, stylish, and indispensible celebration of queer history.
Strobing lights and dark rooms; throbbing house and drag queens on counters; first kisses, last call: the gay bar has long been a place of solidarity and sexual expression--whatever your scene, whoever you're seeking. But in urban centers around the world, they are closing, a cultural demolition that has Jeremy Atherton Lin wondering: What was the gay bar? How have they shaped him? And could this spell the end of gay identity as we know it?
In Gay Bar, the author embarks upon a transatlantic tour of the hangouts that marked his life, with each club, pub, and dive revealing itself to be a palimpsest of queer history. In prose as exuberant as a hit of poppers and dazzling as a disco ball, he time-travels from Hollywood nights in the 1970s to a warren of cruising tunnels built beneath London in the 1770s; from chichi bars in the aftermath of AIDS to today's fluid queer spaces; through glory holes, into Crisco-slicked dungeons and down San Francisco alleys. He charts police raids and riots, posing and passing out -- and a chance encounter one restless night that would change his life forever.
The journey that emerges is a stylish and nuanced inquiry into the connection between place and identity -- a tale of liberation, but one that invites us to go beyond the simplified Stonewall mythology and enter lesser-known battlefields in the struggle to carve out a territory. Elegiac, randy, and sparkling with wry wit, Gay Bar is at once a serious critical inquiry, a love story and an epic night out to remember.
Reviews:
"A remarkable debut... it's a difficult book to pin down, but that's what makes it so readable and so endlessly fascinating... Each observation is sharp and phrased beautifully; Atherton Lin wastes no words, and the ones he chooses are carefully considered. Gay Bar is a book that's beyond impressive, and Atherton Lin's writing is both extremely intelligent and refreshingly unpretentious." -- NPR
"Jeremy Atherton Lin's personal history of queer nightlife is shot with vibrant intellectual adrenaline. With keen original insight, he celebrates the gay bar as a site of ribald, sensuous, and urgent resistance. A must-read for all." -- Cathy Park Hong, author of Minor Feelings
"This book of creative nonfiction links theory, geography, and romantic memoir via the knowledge made available through the erotic... We peep the emergence of nonbinary gender identities as they come to be claimed, and behold the finitude of gay identity -- itself a nineteenth-century construction -- from inside the pissoirs and cabarets where it was conceived and continues to unravel... The essays' lyrical prose gives pleasure through the space it builds for paradox, deferring conclusions in much the same way one might desire to stay for one more song." -- ARTFORUM (Best Books of 2021)

About the Author:
Jeremy Atherton Lin is an Asian-American essayist based in Los Angeles and East Sussex, England. His work has appeared in the Times Literary Supplement, the Guardian, GQ, Artforum and The Yale Review, for which he was shortlisted for a National Magazine Award. Jeremy's debut book Gay Bar was listed in the New York Times Critics' Top Books of 2021 and received the National Book Critics Circle Award for Autobiography. His next cultural memoir, Deep House, will be published in 2024.