---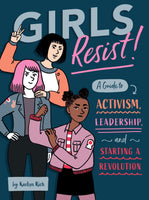 by KaeLyn Rich, illustrated by Giulia Sagramola
Quirk Books
8/7/2018, paperback
SKU: 9781683690597
An activism handbook for teen girls ready to fight for change, social justice, and equality. 
Take on the world and make some serious change with this handbook to everything activism, social justice, and resistance. With in-depth guides to everything from picking a cause, planning a protest, and raising money to running dispute-free meetings, promoting awareness on social media, and being an effective ally, Girls Resist! will show you how to go from "mad as heck about the way the world is going" to "effective leader who gets stuff done."
Veteran feminist organizer KaeLyn Rich shares tons of expertise that'll inspire you as much as it teaches you the ropes. Plus, quotes and tips from fellow teen girl activists show how they stood up for change in their communities. Grab this handbook to crush inequality, start a revolution, and resist!
Reviews:
"If I had a time machine, I would go back in time and give myself this book."--Jenn Northington, Book Riot
"A must read for every teen activist."-- Common Sense Media
"An inspiring and practical handbook for meaningful resistance...This pertinent and bold guide--featuring Sagramola's warm illustrations rendered in blue and orange tones--is likely to become a go-to resource for young activists."-- Publishers Weekly, starred review
About the Author:
KaeLyn Rich is a staff writer for the popular queer women's website Autostraddle.com. A queer feminist, direct action organizer, nonprofit leader, and sexuality educator, she is the Assistant Advocacy Director of the ACLU of New York, the former community affairs coordinator for Planned Parenthood of Central and Western New York. She lives with her spouse, their new baby, and a house full of furkids.