---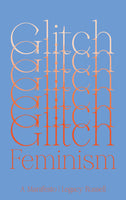 by Legacy Russell
Verso Books
9/29/2020, paperback
SKU: 9781786632661
A New York Times Best Art Book of 2020
A new manifesto for cyberfeminism
The divide between the digital and the real world no longer exists: we are connected all the time. How do we find out who we are within this digital era? Where do we create the space to explore our identity? How can we come together and create solidarity?
The glitch is often dismissed as an error, a faulty overlaying, but, as Legacy Russell shows, liberation can be found within the fissures between gender, technology and the body that it creates. The glitch offers the opportunity for us to perform and transform ourselves in an infinite variety of identities. In Glitch Feminism, Russell makes a series of radical demands through memoir, art and critical theory, and the work of contemporary artists who have travelled through the glitch in their work.
Timely and provocative, Glitch Feminism shows how the error can be a revolution.
Reviews:
"A timely rethinking of cyberfeminism from an intersectional perspective--a deeply personal investigation of blackness and queerness in and through technology. This erudite, vividly-rendered text weaves astute discussions of contemporary artistic practices with personal narrative, capital-T Theory, and virtuosic riffs on twenty-first-century slanguage." -- Mark Tribe, founder of Rhizome
"Glitch Feminism offers technological failure, machinic anxiety, and seams in the interface as the very platforms from which we may begin to rework singular identities into inventive networks, proposing a reboot of feminist discourse. While channeling the boldness of the manifesto form, Legacy Russell offers a nuanced look at inspiring artists whose works reprogram systems of race, gender, and sexuality in the virtual places between living bodies and data bodies. Here, the paradox is the opportunity: the glitch shows you how things work, just as they don't." -- Malik Gaines
"Russell's book is as expansive and plural as the identities it explores, considering art, aesthetic theory, queerness, Blackness and anti-Blackness and, necessarily, the modalities and futures of activist practice." -- BerlinArtLink
About the Author:
Legacy Russell is a writer and curator. Born and raised in New York City, she is the Associate Curator of Exhibitions at The Studio Museum in Harlem. Her written work, interviews, and essays have been published internationally. She is the recipient of the Thoma Foundation 2019 Arts Writing Award in Digital Art and a 2020 Rauschenberg Residency Fellow.