---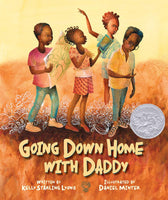 by Kelly Starling Lyons, Illustrated by Daniel Minter
Peachtree Publishing Company
4/1/2019, hardcover
SKU: 9781561459384
Down home is Granny's house. Down home is where Lil Alan and his parents and sister will gather with great-grandparents, grandparents, aunts, uncles, and cousins. Down home is where Lil Alan will hear stories of the ancestors and visit the land that has meant so much to all of them. And down home is where all of the children will find their special way to pay tribute to their family history. All the kids have to decide what they'll share, but what will Lil Alan do?
Kelly Starling Lyons' eloquent text explores the power of history and family traditions, and stunning illustrations by Coretta Scott King Honor- and Caldecott Honor-winner Daniel Minter reveal the motion and connections in a large, multi-generational family.
Reviews:
"A lushly illustrated tribute to family history... Lyons's image-rich prose and Minter's powerful acrylics...convey a sense of historical struggle alongside cherished tradition while capturing the experience of performance jitters." --Publishers Weekly
"Lyrical...a heartfelt story of family love, shared history, and connection to a place that binds everyone together." --Booklist
About the Contributors:
Kelly Starling Lyons is a former journalist and the author numerous books for young readers including One More Dino on the Floor, Hope's Gift, Ellen's Broom, and the Jada Jones series.
Daniel Minter is a painter and illustrator, whose work has been exhibited both nationally and internationally. He is the illustrator of eleven books for children, including Step Right Up: How Doc and Jim Key Taught the World about Kindness and Ellen's Broom, for which he received a Coretta Scott King Illustration Honor Award.