---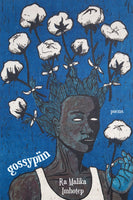 by Ra Malika Imhotep
Red Hen Press
4/12/2022, paperback
SKU: 9781636280257
This harvest of poems is inspired by the plant medicine latent in Gossypium Herbeceum, or Cotton Root Bark, which was used by enslaved Black women to induce labor, cure reproductive ailments, and end unwanted pregnancies. Through an arrangement of stories, secrets, and memories experienced, read, heard, reimagined, and remixed, gossypiin reckons with a peculiar yet commonplace inheritance of violation, survival, and self-possession. In this way, Ra Malika Imhotep invites us to lean in and listen good as the text interrupts the narrative silence around sexual harm, sickness, and the marks they make on black femme subjectivity. 
Within these pages, the poet is joined by a "sticky trickster-self" named Lil Cotton Flower who tells of their own origins and endings in the Black vernacular traditions of the griot and the gossip. Interspersed throughout the collection, Black feminist wisdoms and warnings meld with the poet's own yearnings and Lil Cotton Flower's tall tales.
gossypiin is an offering towards the holding and healing of Black beings that exceed the confines of their own bodies.
Reviews:
"Ra Malika Imhotep's gossypiin is theory for living whispered in the ears of generations of Black folks feminine and women. In its attention to folk ways, the language of our people, it unearths an old tongue made new for us with every turn of a phrase, every means to survival and thriving. Imhotep demonstrates how "gossipin' is a trickster technology . . . a Black feminist hypertext that registers the feeling of an experience of the world in which the self is an unstable plurality continuously unmade." The word shifts and changes because we must. This book is a conjure of the Black women writers beyond this world and waiting in the next who have charted the path and made the medicine for us to be well. Imhotep's careful ear listens good to what they have said and whispers it now to us." —Bettina Judd, author of patient.
"gossypiin is a prayer for Black trans, queer, sick, disabled, Southern, and "girl-born" kin everywhere."—Alan Pelaez-Lopez, author of To Love and Mourn in the Age of Displacementand Intergalactic Travels: Poems from a Fugitive Alien
About the Author:
Ra Malika Imhotep is a Black feminist writer and performance artist from Atlanta, Georgia. As a scholar and cultural worker, Ra Malika is invested in exploring relationships between queer articulations of Black femininity, Southern vernacular culture, and the performance of labor. As a steward of Black Studies and Black feminist thought, Ra Malika dreams, organizes, and facilitates spaces of critical reflection and embodied spiritual-political education. Ra Malika resides in Oakland, California.