---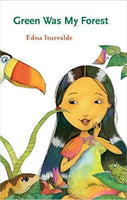 by Edna Iturralde, Jessica Ernst Powell (Translator), Mauricio Maggiorini (Illustrator), Eulalia Cornejo (Illustrator), Santiago Gonzalez (Illustrator)
Mandel Vilar Press
9/18/2018, paperback
SKU: 9781942134602
The Skipping Stone Magazine Honor Award (one of the best multicultural books for children in 2020)
Green Was My Forest is an illustrated collection of twelve short stories about each of Ecuador's six remaining Amazon indigenous groups, told from the point-of-view of the indigenous children themselves. In simple, yet beautiful language, the stories explore the culture, customs and ancestral wisdom of the indigenous groups living in the Ecuadorian Amazon, highlighting their collective love, respect and custodianship of the natural world. These stories offer a rare perspective on these indigenous peoples whose culture and way of life are continuously being threatened by outsiders and the forces of modernization. They portray the way of life of the people who live in Ecuadorian Amazonia known for its forest, exotic animals, and indigenous towns. After traveling to this little-known region and meeting the people who inhabit it, Iturralde studied their way of life, observed their culture, and then wrote these imaginative entertaining stories remaining faithful to these tribes and their world.
Target age: 9-12
About the contributors:
Ecuadorian author, Edna Iturralde, is considered the most important figure in children and young adult's literature in Latin America with nearly sixty published books. In 2014, her collection of short stories, Verde fue mi selva, now translated and published here in English for the first time as Green Was My Forest, was selected as one of the ten best children's books written in Latin America during the 20th Century. Iturralde's books are used in the school curriculum of Houston and Los Angeles. The Texas Library Association selected two of her books for its 2016-17 list of ten recommended books. Two of her books are part of the Required Summer Reading Books recommended by Scholastic Books. Three of her books have won the Skipping Stones International Book Prize, and five of her books won the International Latino Book Award.
Jessica Powell, has translated dozens of works by a wide variety of Latin American writers. Her translation of Antonio Benítez Rojo's novel Woman in Battle Dress (City Lights, 2015) was a finalist for the PEN Center USA Literary Award for Translation. Her translation of Wicked Weeds by Pedro Cabiya (Mandel Vilar Press, 2016), was named a finalist for the 2017 Best Translated Book Award and made the longlist for the 2017 National Translation Award. Her most recent translation, the first-ever English translation of Pablo Neruda's book-length poem, venture of the infinite man, was just published by City Lights Books in October of 2017.