---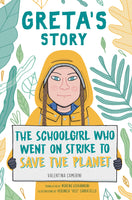 by Valentina Camerini, Translated by Moreno Giovannoni, Illustrated by Veronica "Veci" Carratello
Aladdin Paperbacks
4/6/2021, paperback
SKU: 9781534468788
The inspiring true story of a Greta Thunberg, a young eco-activist whose persistence sparked a global movement.
You are never too young to make a difference.
Ever since she learned about climate change, Greta Thunberg couldn't understand why politicians weren't treating it as an emergency. In August 2018, temperatures in Sweden reached record highs, fires raged across the country, and fifteen-year-old Greta decided to stop waiting for political leaders to take action. Instead of going to school on Friday, she made a sign and went on strike in front of Stockholm's parliament building.
Greta's solo protest grew into the global Fridays for Future--or School Strike 4 Climate--movement, which millions have now joined. She has spoken at multiple international climate summits, was nominated for the Nobel Peace Prize, and was chosen as Time's 2019 Person of the Year. This timely, unofficial biography is her story, but also that of many others around the world willing to fight against the indifference of the powerful for a better future.
About the Contributors:
Valentina Camerini was born in Milan. She began her career working on Walt Disney comics before dedicating herself to novels and children's books. She is the author of 365 Fatti Straordinari per Sorprendere gli Amici and La Storia di Greta ( Greta's Story).
Moreno Giovannoni is the author of the critically acclaimed The Fireflies of Autumn and a freelance translator of long standing. His essay "The Percheron" was published in Southerly and selected for The Best Australian Essays 2014. He was recipient of the prestigious Deborah Cass Prize in 2016.
Veronica "Veci" Carratello is a freelance comics artist, author, and illustrator based in Italy. She graduated from art school in Novara and later earned a comics certificate at the International School of Comics in Turin. Carratello works on illustrations for children's books, magazines, and comics and teaches graphic novel studies at the Academy of Fine Arts and Media in Novara. Her books have been published around the world.