---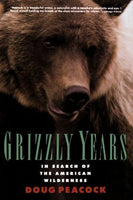 by Doug Peacock
Holt McDougal
1996, paperback
SKU: 9780805045437
Back from his second tour as a Green Beret medic in Vietnam, Doug Peacock needed a place to regroup. War-weary, he crawled into the vastness of the Rocky Mountain wilderness, where he found another besieged veteran, the American grizzly.
For nearly twenty years, alone and unarmed, author Doug Peacock traversed the rugged mountains of Montana and Wyoming tracking the magnificent grizzly. His thrilling narrative takes us into the bear's habitat, where we observe directly this majestic animal's behavior, from hunting strategies, mating patterns, and denning habits to social hierarchy and methods of communication. As Peacock tracks the bears, his story turns into a thrilling narrative about the breaking down of suspicion between man and beast in the wild.
"Grizzly Years is exciting natural history and, more important, a striking metaphor in its impassioned outcry against senseless waste of life on earth—human life included." —Peter Matthiessen, Shadow Country, In the Spirit of Crazy Horse and The Snow Leopard
Doug Peacock is a renowned grizzly bear expert and nature writer. A Vietnam vet and former Green Beret medic, his memoirs, The Grizzly Years and Walking It Off, chronicle the healing of his war-torn soul through his relationship with this quintessential carnivore. He is also the author of In the Shadow of the Sabertooth and Baja and served as the "wild grizzly consultant" for the classic 1988 Jean-Jacques Annaud film, The Bear. Doug also writes extensively for magazines, including Audubon, Backpacker, and Outside. He is also the inspiration behind Edward Abbey's character, Hayduke, in The Monkey Wrench Gang and Hayduke Lives!