---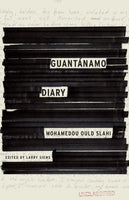 by Mohamedou Ould Slahi, Edited by Larry Siems
Little, Brown and Company, hardcover
2014
SKU: 9780316328685
Guantánamo Diary, by Mohamedou Ould Slahi (Little, Brown; January 20, 2015; ISBN: 9780316328685; Price: $29.00 hardcover), is the remarkable account of imprisonment, torture, and day-to-day human interactions in the world's most infamous prison. Slahi's is the first and only public account written by a still-imprisoned Guantánamo detainee. The memoir offers a unique and vital new perspective on American policy, and also forms the basis of an international campaign to free its author.Guantánamo Diary is being published simultaneously around the world—with rights sold in 17 other territories— on January 20, 2015, accompanied by a storm of global publicity and a series of live events to raise awareness for the ongoing campaign for Slahi's release.Since 2002, Slahi has been imprisoned at Guantánamo. The United States has never charged him with any crime. Although a federal judge ordered his release in 2010, the government appealed this decision. Now, five years later, there is no sign of any plans to let him go. During Slahi's time in custody he has been subjected to multiple forms of torture, including isolation, beatings, sexual humiliation, death threats, and a mock execution.Three years into his U.S. captivity, having learned English from prison guards, Slahi began a diary to recount both his life before he was seized by the United States and his experiences as a detainee. Like all materials created by Guantánamo prisoners, the 466-page handwritten manuscript was classified. His attorneys fought for seven years to have it declassified and cleared for public release. Even so, some sections remain redacted, and the black bars over Slahi's words appear in the book.An authoritative, first-hand account of one of the most notorious miscarriages of justice in modern American history, Guantánamo Diary is not merely a vivid record of what life at the prison is really like, but a deeply personal memoir—terrifying, darkly humorous, and surprisingly gracious. A document of immense historical importance, it is edited and introduced by author and human rights advocate Larry Siems.- See more at: http://www.littlebrown.com/guantanamo.html#sthash.hHYjAAfE.dpuf
An unprecedented international publishing event: the first and only diary written by a still-imprisoned Guantánamo detainee. Since 2002, Mohamedou Slahi has been imprisoned at the detainee camp at Guantánamo Bay, Cuba. In all these years, the United States has never charged him with a crime. Although he was ordered released by a federal judge, the U.S. government fought that decision, and there is no sign that the United States plans to let him go.

Three years into his captivity Slahi began a diary, recounting his life before he disappeared into U.S. custody and daily life as a detainee. His diary is not merely a vivid record of a miscarriage of justice, but a deeply personal memoir---terrifying, darkly humorous, and surprisingly gracious. Published now for the first time, GUANTÁNAMO DIARY is a document of immense historical importance. - See more at: http://www.littlebrown.com/guantanamo.html#sthash.hHYjAAfE.dpuf
An unprecedented international publishing event: the first and only diary written by a still-imprisoned Guantánamo detainee.
Since 2002, Mohamedou Slahi has been imprisoned at the detention camp at Guantánamo Bay, Cuba. In all these years, the United States has never charged him with a crime. A federal judge ordered his release in March 2010, but the U.S. government fought that decision, and there is no sign that the United States plans to let him go. During Slahi's time in custody he has been subjected to multiple forms of torture, including isolation, beatings, sexual humiliation, death threats, and a mock execution.
Three years into his captivity Slahi began a diary, recounting his life before he disappeared into U.S. custody, "his endless world tour" of imprisonment and interrogation, and his daily life as a Guantánamo prisoner. His diary is not merely a vivid record of a miscarriage of justice, but a deeply personal memoir---terrifying, darkly humorous, and surprisingly gracious. Published now for the first time, Guantánamo Diary is a document of immense historical importance and a riveting and profoundly revealing read.
Reviews:
"Anyone who reads Guantánamo Diary---and every American with a shred of conscience should do so, now---will be ashamed and appalled. Mohamedou Ould Slahi's demand for simple justice should be our call to action. Because what's at stake in this case is not just the fate of one man who managed, against all odds, to tell his story, but the future of our democracy." -Glenn Greenwald, No Place to Hide: Edward Snowden, the NSA, and the U.S. Surveillance State
"Here, finally, is the disturbing and stirring story the United States government tried for years to conceal. Mohamedou Ould Slahi's ordeal shocks the conscience, to be sure. But on display in these pages is something much deeper as well: an enduring faith in our common humanity, and in the power of truth to leap prison walls and bridge divides. With devastating clarity and considerable wit, Guantánamo Diary reminds us why we call certain things human rights." - Anthony Romero, Executive Director, American Civil Liberties Union
Mohamedou Slahi was born in a small town in Mauritania in 1970. He won a scholarship to attend college in Germany and worked there for several years as an engineer. He returned to Mauritania in 2000. The following year, at the behest of the United States, he was detained by Mauritanian authorities and rendered to a prison in Jordan; later he was rendered again, first to Bagram Air Force Base in Afghanistan, and finally, on August 5, 2002, to the U.S. prison at Guantánamo Bay, Cuba, where he was subjected to severe torture. In 2010, a federal judge ordered him immediately released, but the government appealed that decision. The U.S. government has never charged him with a crime. He remains imprisoned in Guantánamo.
Larry Siems is a writer and human rights activist and for many years directed the Freedom to Write program at PEN American Center. He is the author, most recently, of The Torture Report: What the Documents Say About America's Post-9/11 Torture Program.
An unprecedented international publishing event: the first and only diary written by a still-imprisoned Guantánamo detainee. Since 2002, Mohamedou Slahi has been imprisoned at the detainee camp at Guantánamo Bay, Cuba. In all these years, the United States has never charged him with a crime. Although he was ordered released by a federal judge, the U.S. government fought that decision, and there is no sign that the United States plans to let him go.

Three years into his captivity Slahi began a diary, recounting his life before he disappeared into U.S. custody and daily life as a detainee. His diary is not merely a vivid record of a miscarriage of justice, but a deeply personal memoir---terrifying, darkly humorous, and surprisingly gracious. Published now for the first time, GUANTÁNAMO DIARY is a document of immense historical importance. - See more at: http://www.littlebrown.com/guantanamo.html#sthash.hHYjAAfE.dpuf
An unprecedented international publishing event: the first and only diary written by a still-imprisoned Guantánamo detainee. Since 2002, Mohamedou Slahi has been imprisoned at the detainee camp at Guantánamo Bay, Cuba. In all these years, the United States has never charged him with a crime. Although he was ordered released by a federal judge, the U.S. government fought that decision, and there is no sign that the United States plans to let him go.

Three years into his captivity Slahi began a diary, recounting his life before he disappeared into U.S. custody and daily life as a detainee. His diary is not merely a vivid record of a miscarriage of justice, but a deeply personal memoir---terrifying, darkly humorous, and surprisingly gracious. Published now for the first time, GUANTÁNAMO DIARY is a document of immense historical importance. - See more at: http://www.littlebrown.com/guantanamo.html#sthash.hHYjAAfE.dpuf