---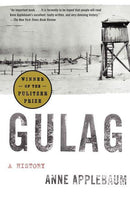 by Anne Applebaum
Anchor Books
3/1/2004
SKU: 9781400034093
The Gulag -- a vast array of Soviet concentration camps that held millions of political and criminal prisoners--was a system of repression and punishment that terrorized the entire society, embodying the worst tendencies of Soviet communism. In this magisterial and acclaimed history, Anne Applebaum offers the first fully documented portrait of the Gulag, from its origins in the Russian Revolution, through its expansion under Stalin, to its collapse in the era of glasnost. Applebaum intimately re-creates what life was like in the camps and links them to the larger history of the Soviet Union. Immediately recognized as a landmark and long-overdue work of scholarship, Gulag is an essential book for anyone who wishes to understand the history of the twentieth century.
Reviews:
"Ambitious and well-documented... Invaluable... Applebaum methodically, and unflinchingly, provides a sense of what it was like to enter and inhabit the netherworld of the Gulag." -- The New Yorker
"An excellent account of the rise and fall of the Soviet labor camps between 1917 and 1986... A splendid book." -- The New York Review of Books
"The most authoritative--and comprehensive--account of this Soviet blight ever published by a Western writer." -- Newsweek
About the Author:
Anne Applebaum is a columnist and member of the editorial board of the Washington Post. A graduate of Yale and a Marshall Scholar, she has worked as the foreign and deputy editor of the Spectator (London), as the Warsaw correspondent for the Economist, and as a columnist for the on-line magazine Slate, as well as for several British newspapers. Her work has also appeared in the New York Review of Books, Foreign Affairs, and the Wall Street Journal, among many other publications. She lives in Washington, D.C., with her husband, Radek Sikorski, and two children.