---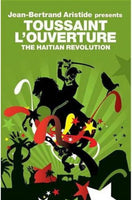 by Toussaint L'Ouverture, Edited by Nick Nesbitt
Verso
9/1/2008, paperback
SKU: 9781844672615
Toussaint L'Ouverture was the leader of the Haitian Revolution in the late eighteenth century, in which slaves rebelled against their masters and established the first black republic.
In this collection of his writings and speeches, former Haitian politician Jean-Bertrand Aristide demonstrates L'Ouverture's profound contribution to the struggle for equality.
With an introduction by Jean-Bertrand Aristide.
About the Contributors:
Toussaint Louverture was a leader of the Haitian Revolution. Born in Saint-Domingue, in a long struggle for independence Toussaint led enslaved Africans and Afro-Haitians to victory over French colonisers, abolished slavery, and secured 'native' control over the colony, Haiti.
Nick Nesbitt is Professor of French at Princeton University. He is the editor of Toussaint Louverture: The Haitian Revolution co-editor of Sounding the Virtual: Gilles Deleuze and the Philosophy of Music, and author of Universal Emancipation: The Haitian Revolution and the Radical Enlightenment, a study of the political ontology of the Haitian Revolution, and Voicing Memory: History and Subjectivity in French Caribbean Literature, a study of Antillean literature and black Atlantic critical theory.