---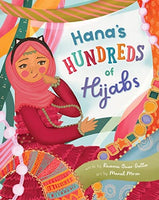 by Razeena Omar Gutta, illustrated by Manal Mirza
Barefoot Books
10/18/2022, hardcover
SKU: 9781646866205
Hana has a humongous collection of hijabs and accessories - and her hijab is always styled superbly. But when her overflowing collection gets a little out of hand, Hana knows something needs to be done... and comes up with a clever plan for sharing her talents and possessions with her community! Young makers will chuckle along with this humorous tale of creative problem-solving and learning to help others.

Target age: 4 to 8
About the Contributors:
Razeena Omar Gutta has always had opportunities to explore different experiences and perspectives around the world as a South Asian Muslim born in Zimbabwe and now living in Australia. She was the founder of the blogs Read Little Muslims and Razeena Reads, where she shared her love of diverse books. Inspired by her three book-loving children and a desire to see books on shelves that she never had growing up, Razeena especially enjoys highlighting Muslim lives in the joyful stories she writes for children.
Manal Mirza is a designer and illustrator based in Chicago, Illinois, USA. Manal creates her paintings digitally and draws inspiration from her experiences. Being a young Muslim American Pakistani woman, her illustrations highlight the different identities that she juggles day to day. Manal brings her own positive outlook to her work, aiming to empower women around the world.