---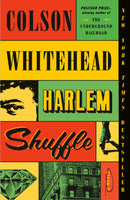 by Colson Whitehead
Anchor Books

08/09/2022, paperback

SKU: 9780525567271
From the two-time Pulitzer Prize-winning author of The Underground Railroad and The Nickel Boys, a gloriously entertaining novel of heists, shakedowns, and rip-offs set in Harlem in the 1960s.
Ray Carney was only slightly bent when it came to being crooked... To his customers and neighbors on 125th street, Carney is an upstanding salesman of reasonably priced furniture, making a decent life for himself and his family. He and his wife Elizabeth are expecting their second child, and if her parents on Striver's Row don't approve of him or their cramped apartment across from the subway tracks, it's still home.
Few people know he descends from a line of uptown hoods and crooks, and that his façade of normalcy has more than a few cracks in it. Cracks that are getting bigger all the time.
Cash is tight, especially with all those installment-plan sofas, so if his cousin Freddie occasionally drops off the odd ring or necklace, Ray doesn't ask where it comes from. He knows a discreet jeweler downtown who doesn't ask questions, either.
Then Freddie falls in with a crew who plan to rob the Hotel Theresa -- the Waldorf of Harlem -- and volunteers Ray's services as the fence. The heist doesn't go as planned; they rarely do. Now Ray has a new clientele, one made up of shady cops, vicious local gangsters, two-bit pornographers, and other assorted Harlem lowlifes.
Thus begins the internal tussle between Ray the striver and Ray the crook. As Ray navigates this double life, he begins to see who actually pulls the strings in Harlem. Can Ray avoid getting killed, save his cousin, and grab his share of the big score, all while maintaining his reputation as the go-to source for all your quality home furniture needs?
Harlem Shuffle's ingenious story plays out in a beautifully recreated New York City of the early 1960s. It's a family saga masquerading as a crime novel, a hilarious morality play, a social novel about race and power, and ultimately a love letter to Harlem.
But mostly, it's a joy to read, another dazzling novel from the Pulitzer Prize and National Book Award-winning Colson Whitehead.
Reviews:
"A rich, wild book that could pass for genre fiction. It's much more, but the entertainment value alone should ensure it the same kind of popular success that greeted his last two novels, The Underground Railroad and The Nickel Boys." -- Janet Maslin, The New York Times
"Colson Whitehead has a couple of Pulitzers under his belt, along with several other awards celebrating his outstanding novels. Harlem Shuffle is a suspenseful crime thriller that's sure to add to the tally -- it's a fabulous novel you must read." -- NPR.org
"Fast-paced, keen-eyed and very funny, Harlem Shuffle is a novel about race, power and the history of Harlem all disguised as a thrill-ride crime novel." -- San Francisco Chronicle
"Enthralling, cinematic... Whitehead's evocation of early 1960s Harlem -- strewn with double-crosses and double standards, broken glass and broken dreams -- is irresistible... a valentine to a time and place." -- Minneapolis Star-Tribune

"A cool, funny, slyly elegant genre outing that deftly weaves in weightier themes around the edges of a story about crooks and schemers in mid-20th-century New York." -- Laura Miller, Slate
"Dazzling... exciting and wise." -- Walton Muyumba, The Boston Globe
"A spectacularly pleasurable read, and while it is, of course, literary, it's also a pure, unapologetic crime-fiction page-turner." -- Los Angeles Times
About the Author:
Colson Whitehead is the #1 New York Times bestselling author of ten works of fiction and nonfiction, and is a two-time winner of the Pulitzer Prize for Fiction, for The Nickel Boys and The Underground Railroad, which also won the National Book Award. A recipient of MacArthur and Guggenheim fellowships, he lives in New York City.