---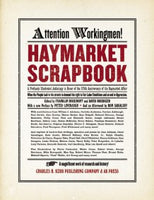 Edited by Franklin Rosemont and David Roediger
AK Press
2012, paperback
SKU: 9781849350808
Marking the 125th anniversary of the 1886 bombing at Chicago's Haymarket Square, in a revised and expanded edition co-published with the Charles H. Kerr Company, this profusely illustrated anthology reproduces hundreds of original documents, speeches, posters, and handbills, as well as contributions by many of today's finest labor and radical historians focusing on Haymarket's enduring influence around the world--including the eight-hour workday.
With an Introduction by Peter Linebaugh.
Franklin Rosemont was born on October 2, 1943, in Chicago, Illinois. His father, Henry, was a labor activist, and mother, Sally, a jazz musician. He edited and wrote an introduction for What is Surrealism?: Selected Writings of Andre Breton, and edited Rebel Worker, Arsenal/Surrealist Subversion, THE RISE AND FALL OF THE DIL PICKLE and Juice Is Stranger Than Friction: Selected Writings of T-Bone Slim. With Penelope Rosemont and Paul Garon he edited THE FORECAST IS HOT!. His work has been deeply concerned with both the history of surrealism (writing a forward for Max Ernst and Alchemy: A Magician in Search of Myth) and of the radical labor movement in America, for instance, writing a biography of Joe Hill. He died on April 12, 2009, in Chicago.
David R. Roediger is Babcock Professor of History at the University of Illinois, Urbana-Champaign. He is the author of Towards the Abolition of Whiteness: Essays on Race, Politics, & Working Class History (1994), The Wages of Whiteness: Race & the Making of the American Working Class (1991) and Our Own Time: A History of American Labor & the Working Day (1989) and editor of Black on White: Black Writers on What It Means to Be White (1998).
Peter Linebaugh is Professor of History at the University of Toledo. He is the author of Stop, Thief!, Ned Ludd and Queen Mab, The London Hanged: Crime and Civil Society in the Eighteenth Century and coauthor (with Marcus Rediker) of Many-Headed Hydra: The Hidden History of the Revolutionary Atlantic.