---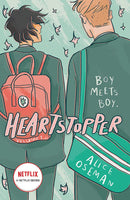 by Alice Oseman
Graphix
05/20/2020, paperback
SKU: 9781338617436
Boy meets boy. Boys become friends. Boys fall in love. A sweet and charming coming-of-age story that explores friendship, love, and coming out. This edition features beautiful two-color artwork.
Shy and softhearted Charlie Spring sits next to rugby player Nick Nelson in class one morning. A warm and intimate friendship follows, and that soon develops into something more for Charlie, who doesn't think he has a chance.
But Nick is struggling with feelings of his own, and as the two grow closer and take on the ups and downs of high school, they come to understand the surprising and delightful ways in which love works.
Target age: 13 to 17
Part one of the Heartstopper series.
Reviews:
New York Public Library Best Book of 2020
Chicago Public Library Best Book of 2020
"Nick and Charlie's lighthearted and tender romance is delightful, and the genuine heart present in the characters makes for a wholesome and uplifting ride... Incredibly lovable from start to finish." -- Kirkus Reviews
"The storytelling moves effortlessly from tearful poignance to laugh-worthy moments to stirring romance." -- The Bulletin of the Center for Children's Books
"Not only does Oseman imbue Charlie and Nick with plenty of charm and vulnerability, she also treats them (and their interior worlds) with a level of understanding and care that elevates the story, blending the genres of teen romance and coming-of-age in a highly moving manner. The resulting product is an understated exploration of love and self, full of quiet joy." -- The AV Club
About the Author:
Alice Oseman was born in 1994 in Kent, England, and is a full-time writer and illustrator. She is the creator of the popular Heartstopper series, which will soon be streaming on Netflix as a live-action TV show. Alice is also the author of four YA novels: Solitaire, Radio Silence, I Was Born for This, and Loveless.