---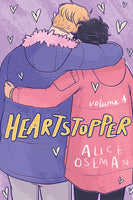 by Alice Oseman
Graphix
01/04/2022, paperback
SKU: 9781338617559
The fourth volume in the wonderfully sweet Heartstopper series, featuring gorgeous two-color artwork. 
Charlie and Nick's relationship has been going really well, and Charlie thinks he's ready to say those three little words: I love you.
Nick feels the same way, but he's got a lot on his mind -- especially the thought of coming out to his dad and the fact that Charlie might have an eating disorder.
As a new school year begins, Charlie and Nick will have to learn what love really means.
Target age: 14 to 17
Part four of the Heartstopper series
Reviews:
"Not only does Oseman imbue Charlie and Nick with plenty of charm and vulnerability, she also treats them (and their interior worlds) with a level of understanding and care that elevates the story, blending the genres of teen romance and coming-of-age in a highly moving manner. The resulting product is an understated exploration of love and self, full of quiet joy". -- The AV Club
"A warm, comfortable story of fledgling love." -- Publishers Weekly
"Nick and Charlie's lighthearted and tender romance is delightful, and the genuine heart present in the characters makes for a wholesome and uplifting ride... Incredibly lovable from start to finish." -- Kirkus Reviews
About the Author:
Alice Oseman was born in 1994 in Kent, England, and is a full-time writer and illustrator. She is the creator of the popular Heartstopper series, which is now streaming on Netflix as a live-action TV show. Alice is also the author of four YA novels: Solitaire, Radio Silence, I Was Born for This, and Loveless.