---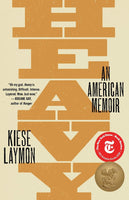 by Kiese Laymon
Scribner Book Company
3/5/2019, paperback
SKU: 9781501125669
In Heavy, Laymon writes eloquently and honestly about growing up a hard-headed black son to a complicated and brilliant black mother in Jackson, Mississippi. From his early experiences of sexual violence, to his suspension from college, to time in New York as a college professor, Laymon charts his complex relationship with his mother, grandmother, anorexia, obesity, sex, writing, and ultimately gambling. Heavy is a "gorgeous, gutting...generous" ( The New York Times) memoir that combines personal stories with piercing intellect to reflect both on the strife of American society and on Laymon's experiences with abuse. By attempting to name secrets and lies he and his mother spent a lifetime avoiding, he asks us to confront the terrifying possibility that few in this nation actually know how to responsibly love, and even fewer want to live under the weight of actually becoming free.
"A book for people who appreciated Roxane Gay's memoir Hunger" ( Milwaukee Journal Sentinel), Heavy is defiant yet vulnerable, an insightful, often comical exploration of weight, identity, art, friendship, and family through years of haunting implosions and long reverberations. "You won't be able to put [this memoir] down...It is packed with reminders of how black dreams get skewed and deferred, yet are also pregnant with the possibility that a kind of redemption may lie in intimate grappling with black realities" ( The Atlantic).
Reviews:
"Kiese Laymon has done nothing less than write the autobiography of the first generation of African-Americans born after the Civil Rights movements of the 1960s and the Black Power ethos of the 1970s. His story of grappling with love and violence and language and our bodies is this generation's story, and it is as moving and heartbreaking and heartwarming as you would expect. And then some." -Courtney Baker, author of Humane Insight
"Oh my god. Heavy is astonishing. Difficult. Intense. Layered. Wow. Just wow." -Roxane Gay, author of Hunger
About the Author:
Born and raised in Jackson, Mississippi, Kiese Laymon, Ottilie Schillig Professor in English and Creative Writing and the University of Mississippi, is the author of the novel Long Division, the memoir Heavy, and the essay collection How to Slowly Kill Yourself and Others in America.