---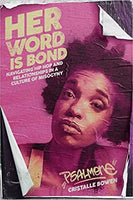 by Cristalle "Psalm One" Bowen
Haymarket
06/21/2022, paperback
SKU: 9781642594614
"Nowhere near famous but still infamous"
Psalm One is a legend to rap nerds, scholars, and hip hop heads. She's worked with the brightest names in rap and have her work celebrated and taught around the globe. In Her Word Is Bond, Psalm One tells her own story, from growing up in Englewood, Chicago through her life as a chemist, teacher, and legendary rapper.
Intrinsically feminist, this story is a celebration of the life and career of one artist who blazed the trail for women in hip hop.
Reviews:
"If there's one voice missing from the ongoing conversation about representation, equity, and the intersection between queerness, the femme experience, and Black lives in the hip hop scene -- it's Psalm One's. A prolific lyricist, poet, philosopher, and emcee, Psalm One is the visionary chemist of our alt hip hop dreams; an artist whose buck is def as good as their knuck, both on and off the page. And we know that Cristalle Bowen has always championed for the rights and protections of those most neglected and harmed by the music industry -- Black womxn -- but in Her Word is Bond, readers receive an in-depth look at the complex and vibrant brilliance that is the renegade known as Psalm One. Epic from beginning to end -- this is a book every warrior for equity and representation in the music industry needs to have on their shelf." -- Faylita Hicks, Author, Poet, 2021 Shearing Fellow and Recording Academy Member
"Her Word Is Bond is a long overdue and necessary memoir about not only fighting other people's expectations, assumptions and projections about who you are while constantly feeling judged, marginalized, tokenized, exploited and under represented. Psalm One is brutally honest about the struggles of just trying to function in a male dominated, black & white binary world when she should've been given the support, space and freedom to grow and thrive." -- Dart Adams, Journalist, Historian/Researcher and Author of Best Damn Hip Hop Writing: The Book of Dart and Instead We Became Evil: A True Story of Survival & Perseverance
About the Author:
Cristalle Bowen, also known as Psalm One, is an international touring and recording artist. She has been consistently named one of the nation's best by the Chicago Tribune, and in 2011 made her television debut on MTV's Emmy-winning series, MADE.