---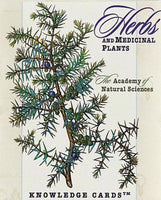 The Academy of Natural Sciences
Pomegranate Communications, Inc.

1/15/2001, card deck
SKU: 9780764915963
Before the science of pharmacology was confined to the laboratory, all medicines were remedies made from plant materials. Healers---from the Neolithic shamans to the eminent physicians of the Enlightenment---made their own poultices, tinctures, and salves from plants that grew in their gardens or in the wild. Few abilities were more important to a doctor than a precise identification of the correct flora.

The 48 beautiful nineteenth-century botanical illustrations in this deck - accompanied by text describing the appearances and uses of the plant - introduce readers to a range of natural remedies, from golden seal to St. John's wort.
Knowledge Cards are a great source of condensed informationall in a deck the size of a pack of playing cards. 3 x 4 in.