---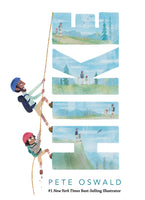 by Pete Oswald
Candlewick Press
3/17/2020, hardcover
SKU: 9781536201574
Take to the trails for a celebration of nature -- and a day spent with dad.
In the cool and quiet early light of morning, a father and child wake up. Today they're going on a hike. Follow the duo into the mountains as they witness the magic of the wilderness, overcome challenges, and play a small role in the survival of the forest. By the time they return home, they feel alive -- and closer than ever -- as they document their hike and take their place in family history.
In detail-rich panels and textured panoramas, Pete Oswald perfectly paces this nearly wordless adventure, allowing readers to pause for subtle wonders and marvel at the views. A touching tribute to the bond between father and child, with resonant themes for Earth Day, Hike is a breath of fresh air.
Target age: 4 to 8
Reviews:
"There's gentle humor throughout, and the loving relationship between this father and child enjoying the outdoors together is movingly emphasized. Oswald's use of earth tones and textures reinforces the beauty of the natural world and the importance of sustaining it through simple family traditions like this one." --The Horn Book (starred review)
"Painted landscapes conjure the soft haze of forest waterfalls, mountain vistas, watery strokes of tree branches, small details of flowers, woodland creatures, and the warm expressions between parent and child. A suggested first purchase for all libraries, this visual feast evokes a breathtaking climb to the heights, where the absence of text reflects the serenity of the mountain and those who quietly rejoice in the hike." --School Library Journal (starred review)
About the Author:
Pete Oswald is the illustrator of the New York Times bestsellers The Bad Seed and The Good Egg, both written by Jory John. He worked as a character designer and concept artist on the popular films Madagascar: Escape 2 Africa, Cloudy with a Chance of Meatballs, Hotel Transylvania, and ParaNorman. He was also the art director and production designer for The Angry Birds Movie. Pete Oswald lives in Santa Monica, California, with his wife and three children.