---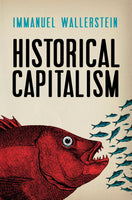 by Immanuel Wallerstein
Verso Books
11/1/2011, paperback
SKU: 9781844677665
In this short, highly readable book, the master of world-systems theory provides a succinct anatomy of capitalism over the past five hundred years. Considering the way capitalism has changed and evolved over the centuries, and what has remained constant, he outlines its chief characteristics. In particular, he looks at the emergence and development of a world market, and of labor; in doing so, he argues that capitalism has brought about immiseration in the Global South. As long as they remain within a framework of world capitalism, Wallerstein concludes, the economic and social problems of developing countries will remain unresolved.  
Historical Capitalism, published here with its companion essay Capitalist Civilization, is a concise, compelling beginners' guide to one of the most challenging and influential assessments of capitalism as a world-historic mode of production.
About the Author:
Immanuel Wallerstein is director of the Fernand Braudel Center at the State University of New York. His books include a three-volume study, The Modern World-System, Historical Capitalism, and, cowritten with Etienne Balibar, Race, Nation, Class.