---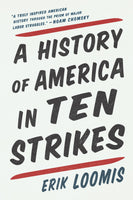 by Erik Loomis
The New Press
9/1/2020, paperback
SKU: 9781620976272
An "entertaining, tough-minded, and strenuously argued" (The Nation) account of ten moments when workers fought to change the balance of power in America
A Kirkus Reviews best book of 2018, A History of America in Ten Strikes--published in the wake of the teachers' strike that swept the country in 2018--challenges all of our contemporary assumptions around labor, unions, and American workers. Labor historian Erik Loomis recounts ten critical workers' strikes in American labor history in "chapters [that] are self-contained enough to be used on their own in union trainings or reading groups" (Labor Notes), and adds an appendix detailing the 150 most important strikes in American history. These labor uprisings do not just reflect the times in which they occurred, but speak directly to the present moment, where American workers are still fighting for basic rights like a livable minimum wage.
From the Lowell Mill Girls strike in the 1830s to Justice for Janitors in 1990, "what Loomis's book perhaps does best is remind us that the promise of the labor movement, despite its many failures and compromises, has always been to make everyday life more democratic" (The New Republic).
As a new generation of workers flexes their muscles with renewed strike campaigns on behalf of teachers, autoworkers, and nurses, we have much to learn from both the victories and defeats of the past, from the boots up.
Reviews:
"A brilliantly recounted American history through the prism of major labor struggles, with critically important lessons for those who seek a better future for working people and the world." -- Noam Chomsky
About the Author:
Erik Loomis is an associate professor of history at the University of Rhode Island. He blogs at Lawyers, Guns, and Money on labor and environmental issues past and present. His work has also appeared in the New York Times, the Washington Post, Dissent, and the New Republic. The author of Out of Sight and Empire of Timber, he lives in Providence, Rhode Island.