---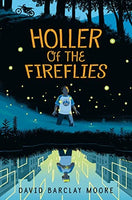 by David Barclay Moore
Alfred A. Knopf Books for Young Readers
9/27/2022, hardcover
SKU: 9781524701284
A Kirkus Reviews Best Book of the Year
A Chicago Public Library Best Book of the Year
A boy from the hood in Brooklyn travels to a STEM camp in an Appalachian holler for one epic, life-changing summer in this brilliant novel from the award-winning author of The Stars Beneath Our Feet.
Javari knew that West Virginia would be different from his home in Bushwick, Brooklyn. But his first day at STEM Camp in a little Appalachian town is still a shock. Though run-ins with the police are just the same here. Not good.
Javari will learn a lot about science, tech, engineering, and math at camp. And also about rich people, racism, and hidden agendas. But it's Cricket, a local boy, budding activist, and occasional thief, who will show him a different side of the holler--and blow his mind wide open.
Javari is about to have that summer. Where everything gets messy and complicated and confusing . . . and you wouldn't want it any other way.
J + C + summer = ∞
Target age: 10 to 13
Reviews:
★ " Thoughtful explorations of issues such as corporate greed, the opioid crisis, water rights, and the little-known history of Affrilachians abound in this outstanding novel. An emotionally resonant narrative skillfully connecting the past, present, and future." -- Kirkus Reviews, starred review
★ " Outstanding. Moore's thoughtful approach to big ideas is honest and his text attends to the topics in a way that allows middle-grade readers to understand and older readers to relate. Holler of the Fireflies is a feel-good book that still manages to go deep into heavy topics. Profound." --Shelf Awareness, starred review
★ "The joy and resilience of two kids coming into their own is satisfying. A highly recommended important purchase; both timely and timeless." -- School Library Journal
★ "Moore covers timely social issues in this richly wrought fish-out-of-water story that takes a 12-year-old Brooklynite gamer to Appalachia." -- Publishers Weekly, starred review
About the Author:
David Barclay Moore is the author of The Stars Beneath Our Feet, which won the Coretta Scott King-John Steptoe Award for New Talent. David was born and raised in Missouri. After studying creative writing at Iowa State University, film at Howard University in Washington, D.C., and language studies at l'Université de Montpellier in France, David moved to New York City, where he has worked in film, journalism, and communications.