---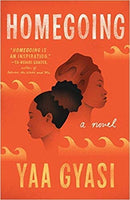 by Yaa Gyasi
Vintage
5/2/17, paperback
SKU: 9781101971062
Ghana, eighteenth century: two half sisters are born into different villages, each unaware of the other. One will marry an Englishman and lead a life of comfort in the palatial rooms of the Cape Coast Castle. The other will be captured in a raid on her village, imprisoned in the very same castle, and sold into slavery.
One of Oprah's Best Books of the Year and a PEN/Hemingway award winner, Homegoing follows the parallel paths of these sisters and their descendants through eight generations: from the Gold Coast to the plantations of Mississippi, from the American Civil War to Jazz Age Harlem. Yaa Gyasi's extraordinary novel illuminates slavery's troubled legacy both for those who were taken and those who stayed--and shows how the memory of captivity has been inscribed on the soul of our nation.
Reviews:
"[Toni Morrison's] influence is palpable in Gyasi's historicity and lyricism; she shares Morrison's uncanny ability to crystalize, in a single event, slavery's moral and emotional fallout. . . . No novel has better illustrated the way in which racism became institutionalized in this country." --Vogue
"Thanks to Ms. Gyasi's instinctive storytelling gifts, the book leaves the reader with a visceral understanding of both the savage realities of slavery and the emotional damage that is handed down, over the centuries. . . . By its conclusion, the characters' tales of loss and resilience have acquired an inexorable and cumulative emotional weight." -- The New York Times
About the Author:
Yaa Gyasi was born in Ghana and raised in Huntsville, Alabama. She holds a BA in English from Stanford University and an MFA from the Iowa Writers' Workshop, where she held a Dean's Graduate Research Fellowship.