---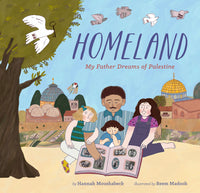 by Hannah Moushabeck, Illustrated by Reem Madooh
Chronicle Books
3/28/2023, hardcover
SKU: 9781797202051
A father and his daughters may not be able to return home . . . but they can celebrate stories of their homeland!
As bedtime approaches, three young girls eagerly await the return of their father who tells them stories of a faraway homeland--Palestine. Through their father's memories, the Old City of Jerusalem comes to life: the sounds of juice vendors beating rhythms with brass cups, the smell of argileh drifting through windows, and the sight of doves flapping their wings toward home. These daughters of the diaspora feel love for a place they have never been, a home they cannot visit. But, as their father's story comes to an end, they know that through his memories, they will always return.
A Palestinian family celebrates the stories of their homeland in this moving autobiographical picture book debut by Hannah Moushabeck. With heartfelt illustrations by Reem Madooh, this story is a love letter to home, to family, and to the persisting hope of people that transcends borders.
Target age: 5 to 8
Reviews:
"Like many picture books about immigration, Homeland creates a tapestry of both love and loss reinvented in a story by a granddaughter. This one, in particular, rings with truth while the drum's heartbeat holds a family and its history together." -- Jane Yolen, author of Owl Moon, Eeny Up Above, and Encounter
"Hannah Moushabeck has written a marvelous, utterly transporting story describing the gentle power of precious transmitted memory and the wistfulness of immigrants, particularly those in exile from an occupied or altered place. Homeland does what decades of sad news stories have repeatedly failed to do for Palestine--humanize a beautiful people and place. I wish my father were alive so I could give him this book." -- Naomi Shihab Nye, award-winning author of Habibi and Sitti's Secrets
About the Author:
Hannah Moushabeck is a second-generation Palestinian American author, editor, and marketer who was raised in a family of booksellers and publishers in Western Massachusetts and England. Born in Brooklyn into Interlink Publishing, a family-run independent publishing house, she learned the power of literature at a young age. Homeland: My Father Dreams of Palestine is her first picture book. She lives in Amherst, Massachusetts on the homelands of the Pocumtuc and Nipmuc Nations.
Reem Madooh is an illustrator from Kuwait with an MA in Children's Book Illustration. She is an avid picture book collector and loves narrative storytelling and incorporating a dreamlike atmosphere into her art. As a child, she enjoyed listening to stories of the old days from her parents and grandparents. She also loves za'atar and makes sure to have some every day. Homeland: My Father Dreams of Palestine is her first picture book. She lives in Kuwait.