---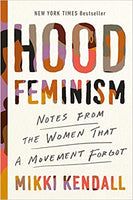 by Mikki Kendall
Viking
2/23/2021, paperback
SKU: 9780525560562
A potent and electrifying critique of today's feminist movement announcing a fresh new voice in Black feminism.
Today's feminist movement has a glaring blind spot, and paradoxically, it is women. Mainstream feminists rarely talk about meeting basic needs as a feminist issue, argues Mikki Kendall, but food insecurity, access to quality education, safe neighborhoods, a living wage, and medical care are all feminist issues. All too often, however, the focus is not on basic survival for the many, but on increasing privilege for the few. That feminists refuse to prioritize these issues has only exacerbated the age-old problem of both internecine discord, and women who rebuff at carrying the title. Moreover, prominent white feminists broadly suffer from their own myopia with regard to how things like race, class, sexual orientation, and ability intersect with gender. How can we stand in solidarity as a movement, Kendall asks, when there is the distinct likelihood that some women are oppressing others?
In her searing collection of essays, Mikki Kendall takes aim at the legitimacy of the modern feminist movement arguing that it has chronically failed to address the needs of all but a few women. Drawing on her own experiences with hunger, violence, and hypersexualization, along with incisive commentary on politics, pop culture, the stigma of mental health, and more, Hood Feminism delivers an irrefutable indictment of a movement in flux. An unforgettable debut, Kendall has written a ferocious clarion call to all would-be feminists to live out the true mandate of the movement in thought and in deed.
Reviews:
A rousing call to action for today's feminists. It should be required reading for everyone.--Gabrielle Union, author of We're Going to Need More Wine
"Beautifully centers on the experience of women who face an actual battle on the front lines while mainstream feminists clamor for access to the officers' club." --The Washington Post
"In prose that is clean, crisp, and cutting, Kendall reveals how feminism has both failed to take into account populations too often excluded from the banner of feminism and failed to consider the breadth of issues affecting the daily lives of millions of women. . . . Throughout, Kendall thoughtfully and deliberately takes mainstream feminism to task . . . [but] if Hood Feminism is a searing indictment of mainstream feminism, it is also an invitation. For every case in which Kendall highlights problematic practices, she offers guidance for how we can all do better." --NPR

About the Author:
Mikki Kendall is a New York Times bestselling writer, speaker, and blogger whose work has appeared in The Washington Post, The Boston Globe, The Guardian, TIME, Salon, Ebony, Essence, and elsewhere. An accomplished public speaker, she has discussed race, feminism, violence in Chicago, tech, pop culture, and social media on The Daily Show, MSNBC, NPR, Al Jazeera's The Listening Post, BBC's Women's Hour, and Huffington Post Live, as well as at universities across the country. In 2017, she was awarded Best Food Essay from the Association of Food Journalists for her essay on hot sauce, Jim Crow, and Beyoncé. She is also the author of Amazons, Abolitionists, and Activists: A Graphic History of Women's Fight for Their Rights and a co-editor of the Locus-nominated anthology Hidden Youth, as well as a part of the Hugo-nominated team of editors at Fireside Magazine. A veteran, she lives in Chicago with her family.