---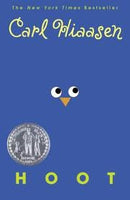 by Carl Hiaasen
Yearling
2002, paperback
SKU: 9780375829161
A book for young readers. It involves new kids, bullies, alligators, eco-warriors, pancakes, and pint-sized owls. A hilarious Floridian adventure!
But don't take our word for it...
"Hoot's so-called harmless 'mischief' is training a generation to look cute while burning homes and cars and stores. Eco-terrorism is serious. Eco-terrorism is arson and pipe bombs and hate that hurts people and destroys lives." - Ron Arnold, Executive Vice-President of the Center for the Defense of Free Enterprise
Thank you, Mr. Arnold.
Be sure to check out Carl Hiaasen's other stories, Scat, Flush and Chomp