---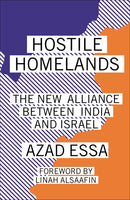 by Azad Essa
Pluto Press
2/20/2023, paperback
SKU: 9780745345017
Examines the political and ideological links and dovetailing ethnonationalist projects of India and Israel
Lucid and persuasive, Essa demonstrates that the India-Israel alliance spells significant consequences for democracy, the rule of law, and justice worldwide.
Under Narendra Modi, India has changed dramatically. As the world attempts to grapple with its trajectory towards authoritarianism and 'Hindutva' (Hindu Nationalism), little attention has been paid to the linkages between Modi's India and the governments from which it has drawn inspiration, as well as military and technical support.
India once called Zionism racism, but, as Azad Essa argues, the state of Israel has increasingly become a cornerstone of India's foreign policy. Looking to replicate the 'ethnic state' in the image of Israel in policy and practice, the annexation of Kashmir increasingly resembles Israel's settler-colonial project of the occupied West Bank. The ideological and political linkages between the two states are alarming; their brands of ethnonationalism are deeply intertwined.
Hostile Homelands puts India's relationship with Israel in its historical context, looking at the origins of Zionism and Hindutva; India's changing position on Palestine; and the countries' growing military-industrial relationship from the 1990s.
Features a foreword by Linah Alsaafin.
Reviews:
"Today's Israel and Modi's India are natural partners, sharing values of racist ethnocracy and illegal annexation, and for Israel, offering a market for military and other advanced technology. This valuable study traces the complex evolution of their relationship from their independence to its recent blossoming as the societies and the international context changed, providing particularly rich insights into India's development through this period" -- Noam Chomsky, academic and author of numerous titles including Manufacturing Consent
"A brilliant and courageous book ... the definitive treatment of the overlooked alliance between the far-right wing governments of India and Israel. Essential reading for the escalating neo-fascist forces in our turbulent times" -- Cornel West, American philosopher, author of Race Matters

"Formidable and timely. Azad Essa lays bare the historically malignant roots of an often overlooked and underestimated kinship between two ideologies, Zionism and Hindutva, hungry for land and hungrier for dominance" -- Mohammed El-Kurd, Author of RIFQA
About the Contributors:

Azad Essa is an award-winning journalist and author. He is currently a senior reporter for Middle East Eye based in New York. He previously worked at Al Jazeera English covering central and southern Africa. He is the author of The Moslems are Coming and Zuma's Bastard and has written for publications including the Washington Post, Foreign Policy and the Guardian.
Linah Alsaafin is a Palestinian journalist and writer whose work has appeared in OpenDemocracy, Al Monitor, Middle East Eye, the Times Literary Supplement, and Al Jazeera.