---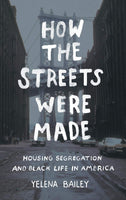 by Yelena Bailey
University of North Carolina Press
12/18/2020, paperback
SKU: 9781469660592
In this book, Yelena Bailey examines the creation of the streets not just as a physical, racialized space produced by segregationist policies but also as a sociocultural entity that has influenced our understanding of blackness in America for decades. Drawing from fields such as media studies, literary studies, history, sociology, film studies, and music studies, this book engages in an interdisciplinary analysis of the how the streets have shaped contemporary perceptions of black identity, community, violence, spending habits, and belonging.

Where historical and sociological research has examined these realities regarding economic and social disparities, this book analyzes the streets through the lens of marketing campaigns, literature, hip-hop, film, and television in order to better understand the cultural meanings associated with the streets. Because these media represent a terrain of cultural contestation, they illustrate the way the meaning of the streets has been shaped by both the white and black imaginaries as well as how they have served as a site of self-assertion and determination for black communities.
Reviews:
"How the Streets Were Made is a provocative, interdisciplinary study of African American public life and cultural production. Yelena Bailey's book is a necessary addition to UNC Press's brilliant catalog of works interrogating the complexities of Black life in the United States."--Walton Muyumba, Indiana University 

About the Author:

Yelena Bailey is director of education policy at the State of Minnesota's Professional Educator Licensing and Standards Board.