---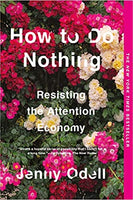 by Jenny Odell
Melville House Publishing
12/29/2020, paperback
SKU: 9781612198552
In a world where addictive technology is designed to buy and sell our attention, and our value is determined by our 24/7 data productivity, it can seem impossible to escape. But in this inspiring field guide to dropping out of the attention economy, artist and critic Jenny Odell shows us how we can still win back our lives.
Odell sees our attention as the most precious--and overdrawn--resource we have. And we must actively and continuously choose how we use it. We might not spend it on things that capitalism has deemed important ... but once we can start paying a new kind of attention, she writes, we can undertake bolder forms of political action, reimagine humankind's role in the environment, and arrive at more meaningful understandings of happiness and progress.
Far from the simple anti-technology screed, or the back-to-nature meditation we read so often, How to do Nothing is an action plan for thinking outside of capitalist narratives of efficiency and techno-determinism. Provocative, timely, and utterly persuasive, this book will change how you see your place in our world.
Reviews:
The path to freedom lies within the covers of this book. --Lauren Goode, WIRED
She struck a hopeful nerve of possibility that I hadn't felt in a long time. --Jia Tolentino, THE NEW YORKER
About the Author:
Jenny Odell is an artist and writer who teaches at Stanford and has been an artist-in-residence at places like the San Francisco dump, Facebook, the Internet Archive, and the San Francisco Planning Department. Her writing has appeared in the New York Times, New York Magazine, The Atlantic, The Believer, The Paris Review, and McSweeney's, among others. She lives in Oakland.