---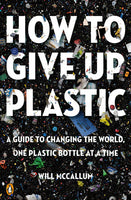 by Will McCallum
Penguin
7/16/2019, paperback
SKU: 9780143134336
How to Give Up Plastic is a straightforward guide to eliminating plastic from your life. Going room by room through your home and workplace, Greenpeace activist Will McCallum teaches you how to spot disposable plastic items and find plastic-free, sustainable alternatives to each one. From carrying a reusable straw, to catching microfibers when you wash your clothes, to throwing plastic-free parties, you'll learn new and intuitive ways to reduce plastic waste. And by arming you with a wealth of facts about global plastic consumption and anecdotes from activists fighting plastic around the world, you'll also learn how to advocate to businesses and leaders in your community and across the country to commit to eliminating disposable plastics for good.
It takes 450 years for a plastic bottle to fully biodegrade, and there are around 12.7 million tons of plastic entering the ocean each year. At our current pace, in the year 2050 there could be more plastic in the oceans than fish, by weight. These are alarming figures, but plastic pollution is an environmental crisis with a solution we can all contribute to.
Reviews:
"Will McCallum's How to Give Up Plastic is an important step in confronting this huge problem. If everyone took up just one of the changes he suggests the planet would be much healthier." --Mark Kurlansky, author of Cod and Milk!
"If you care about seabirds, turtles, fish, family, friends, planet, this book is for you--a profound, passionate, and practical guide to taking action on plastics." --Jennifer Ackerman, New York Times bestselling author of The Genius of Birds
"When the first plastic bag literally launched 53 years ago, our planet entered the unholy Age of the Plasticene. Microplastics in our clothing? Individually wrapped everything? WTF? It's no small exaggeration to say this book changed the way I think. It is a welcome corrective, a plangent and necessary call to arms." --Florence Williams, author of The Nature Fix
"Accessible and optimistic... A galvanizing alternative to ominous media prophecies of inevitable environmental disaster." --Booklist
Author:
Will McCallum has been at the heart of the anti-plastics movement for the past three years, in his role as Head of Oceans at Greenpeace UK. He regularly meets with the government and companies to implore them to help tackle the plastic crisis. He leads the global Greenpeace campaign to create the world's largest protected area in the Antarctic Ocean. He recently spent a month in Antarctica with his team, investigating whether plastic is reaching the most remote region on the planet. He is a keen long-distance runner and regularly goes sea kayaking to explore the UK coast.