---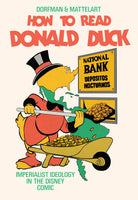 by Ariel Dorfman and Armand Mattelart
Pluto Press

1/20/2020, paperback
SKU: 9780745339788
First published in 1971 in Chile, where the entire third edition was dumped into the ocean by the Chilean Navy and bonfires were held to destroy earlier editions, How to Read Donald Duck reveals the imperialist, capitalist ideology at work in our most beloved cartoons.
Focusing on the hapless mice and ducks of Disney--curiously parentless, marginalized, always short of cash--Ariel Dorfman and Armand Mattelart dissect the narratives of dependency and social aspiration that define the Disney corpus. Disney recognized the challenge and, when the book was translated and imported into the United States in 1975, managed to have all 4,000 copies impounded. Ultimately, 1,500 copies of the book were allowed into the country, the rest of the shipment was blocked, and until now no American publisher has re-released the book, which has sold over 1 million copies worldwide. (The original English language edition is now a collector's item, selling for up to $500 on Amazon.)
Reviews:
"The book shows readers how to look more closely at the vision of the world propagated by Disney--not the films, but the comic strips, which reached a vast global audience before the rise of television. Dorfman and Mattelart offer a lively and persuasive critique, connecting the universe of the comics (in which male characters have uncles and nephews, but few wives or daughters) with Walt Disney's own unhappy childhood, and paying particular attention to Scrooge McDuck and his relentless pursuit of money." -- The New York Times
About the Contributors:
Born in Argentina in 1942, Ariel Dorfman spent ten years as a child in New York, until his family was forced out of the United States by the persecution of McCarthy. The Dorfmans ended up in Chile, where Ariel lived through the Allende revolution and the subsequent resistance inside Chile. Accompanied by his wife Angélica, to whom he has been married for over fifty years, he wandered the globe as an exile, finally settling down in the United States, where he is now Walter Hines Emeritus Professor of Literature at Duke University, though he keeps a house in Chile. Dorfman's acclaimed work covers almost every genre available (plays, novels, short stories, fiction, essays, journalism, opinion pieces, memoirs, screenplays). In all them, he has won major awards, leading to accolades from Time ("a literary grandmaster"), Newsweek ("one of the greatest novelists coming out of Latin America"), the Washington Post ("a world novelist of the first order") and the New York Times ("he has written movingly and often brilliantly of the cultural dislocations and political fractures of his dual heritage").
Armand Mattelart (born January 8, 1936) is a Belgian sociologist and is well-known as a Leftist French scholar. His work deals with media, culture and communication, especially in their historical and international dimensions.