---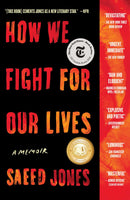 by Saeed Jones
Simon and Schuster
7/7/2020, paperback

SKU: 9781501132742

WINNER OF THE 2019 KIRKUS PRIZE IN NONFICTION
"People don't just happen," writes Saeed Jones. "We sacrifice former versions of ourselves. We sacrifice the people who dared to raise us. The 'I' it seems doesn't exist until we are able to say, 'I am no longer yours.'"
Haunted and haunting, How We Fight for Our Lives is a stunning coming-of-age memoir. Jones tells the story of a young, black, gay man from the South as he fights to carve out a place for himself, within his family, within his country, within his own hopes, desires, and fears. Through a series of vignettes that chart a course across the American landscape, Jones draws readers into his boyhood and adolescence--into tumultuous relationships with his family, into passing flings with lovers, friends, and strangers. Each piece builds into a larger examination of race and queerness, power and vulnerability, love and grief: a portrait of what we all do for one another--and to one another--as we fight to become ourselves.
An award-winning poet, Jones has developed a style that's as beautiful as it is powerful--a voice that's by turns a river, a blues, and a nightscape set ablaze. How We Fight for Our Lives is a one-of-a-kind memoir and a book that cements Saeed Jones as an essential writer for our time.
Reviews:
"[A] devastating memoir....Jones is fascinated by power (who has it, how and why we deploy it), but he seems equally interested in tenderness and frailty. We wound and save one another, we try our best, we leave too much unsaid....A moving, bracingly honest memoir that reads like fevered poetry."-- The New York Times Book Review

"A raw and eloquent memoir. One could say that Saeed Jones' new memoir, How We Fight for Our Lives, is a classic coming-of-age story....But Jones' voice and sensibility are so distinct that he turns one of the oldest of literary genres inside out and upside down. How We Fight for Our Lives is at once explicitly raunchy, mean, nuanced, loving and melancholy. It's sometimes hard to read and harder to put down." --Maureen Corrigan, NPR's "Fresh Air"
"Extremely personal, emotionally gritty, and unabashedly honest , How We Fight for Our Lives is an outstanding memoir that somehow manages a perfect balance between love and violence, hope and hostility, transformation and resentment.....Jones writes with the confidence of a veteran novelist and the flare of an accomplished poet. This is an important coming-of-age story that's also a collection of tiny but significant joys. More importantly, it's a narrative that cements Jones as a new literary star -- and a book that will give many an injection of hope." --NPR
"Urgent, immediate, matter of fact....The prose in Saeed Jones's memoir How We Fight for Our Lives shines with a poet's desire to give intellections the force of sense impressions." --The New Yorker
Author:
Saeed Jones is the author of Prelude to Bruise, winner of the 2015 PEN/Joyce Osterweil Award for Poetry and the 2015 Stonewall Book Award/Barbara Gittings Literature Award. The poetry collection was also a finalist for the 2015 National Book Critics Circle Award, as well as awards from Lambda Literary and the Publishing Triangle in 2015. Jones was born in Memphis, Tennessee, and grew up in Lewisville, Texas. He earned a BA at Western Kentucky University and an MFA at Rutgers University-Newark.