---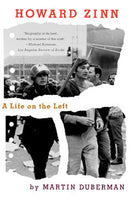 by Martin Duberman
The New Press
2013
SKU: 9781595589347
Howard Zinn was perhaps the best-known and most widely celebrated popular interpreter of American history in the twentieth century, renowned as a bestselling author, a political activist, a lecturer, and one of America's most recognizable and admired progressive voices.
His rich, complicated, and fascinating life placed Zinn at the heart of the signal events of modern American history—from the battlefields of World War II to the McCarthy era, the civil rights and the antiwar movements, and beyond. A bombardier who later renounced war, a son of working-class parents who earned a doctorate at Columbia, a white professor who taught at the historically black Spelman College in Atlanta, a committed scholar who will be forever remembered as a devoted "people's historian," Howard Zinn blazed a bold, iconoclastic path through the turbulent second half of the twentieth century.
For the millions who were moved by Zinn's personal example of political engagement and by his inspiring "bottom up" history, here is an authoritative biography of this towering figure—by Martin Duberman, recipient of the American Historical Association's 2007 Lifetime Achievement Award. Given exclusive access to the previously closed Zinn archives, Duberman's impeccably researched biography is illustrated with never-before-published photos from the Zinn family collection. Howard Zinn: A Life on the Left is a major publishing event that brings to life one of the most inspiring figures of our time.