---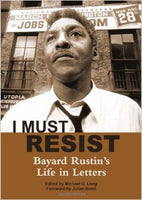 Edited by Michael G. Long
City Lights
2012, paperback
SKU: 9780872865785
Bayard Rustin has been called the "lost prophet" of the civil rights movement. A master strategist and tireless activist, he is best remembered as the organizer of the 1963 March on Washington, one of the largest nonviolent protests ever held in the U.S. He brought Gandhi's protest techniques to the American civil rights movement and played a deeply influential role in the life of Martin Luther King, Jr., helping to mold him into an international symbol of nonviolence.

Despite these achievements, Rustin often remained in the background. He was silenced, threatened, arrested, beaten, imprisoned and fired from important leadership positions, largely because he was an openly gay man in a fiercely homophobic era.
Here we have Rustin in his own words in a collection of over 150 of his letters; his correspondents include the major progressives of his day — for example, Eleanor Holmes Norton, A. Philip Randolph, Roy Wilkins, Ella Baker, and of course, Martin Luther King, Jr.
Bayard Rustin's eloquent, impassioned voice, his ability to chart the path "from protest to politics," is both timely and deeply informative. As the Occupy movement ushers America into a pivotal election year, and as politicians and citizens re-assess their goals and strategies, these letters provide direct access to the strategic thinking and tactical planning that led to the successes of one of America's most transformative and historic social movements.
With a foreword by Julian Bond.
Reviews:
"A vital addition to the history of the civil rights movement by an exceptionally determined, vital and creative force who was invaluable to Martin Luther King Jr and A. Philip Randolph among many others." -- Nat Hentoff
"Rustin was a life-long agitator for justice. He changed America – and the world – for the better. This collection of his letters makes his life and his passions come vividly alive, and helps restore him to history, a century after his birth. I Must Resist makes for inspiring reading." -- John D'Emilio, author of Lost Prophet: The Life and Times of Bayard Rustin
"Bayard Rustin's courageously candid letters, most of which have never before been available to researchers, provide fascinating glimpses into the private life of one of history's most reticent public figures." -- Clayborne Carson, Founding Director of the Martin Luther King Jr. Research and Education Institute at Stanford University
"These letters – poetic, incisive, passionate, and above all political in the broadest meaning of the word – span almost four decades not only of Bayard Rustin's life but of the emotional and spiritual life of America. There is hardly a social justice movement during this time in which Rustin was not involved from pacifism to ending poverty to battles for sexual freedom. Michael Long's brilliant editing has created a compelling historical narrative and reading these letters is to be witness to the ever-evolving conscience that guides our country's endangered, but surviving, commitment to freedom." -- Michael Bronksi, author of A Queer History of the United States
"Bayard Rustin was a committed but very complicated person. This marvelously annotated collection of letters explain the spirit, and evolution of the thoughts and actions of an often overlooked key figure in the 20th century civil and human rights movement." -- Mary Frances Berry, Geraldine Segal Professor of American Social Thought, University of Pennsylvania, and former Chair United States Commission on Civil Rights
"I Must Resist: Bayard Rustin's Life in Letters provides fascinating insights into Bayard Rustin's activist life. It includes hundreds of letters in Rustin's own words that reveal his tireless and brave efforts to promote American civil rights, as well as his personal tragedies. All aspects of Rustin's experiences are captured in these letters, including his struggles with opponents dedicated to silencing him as an international symbol of nonviolent protests against racial injustice. This remarkable and deeply moving publication is a must-read." -- William Julius Wilson, Lewis P. and Linda L. Geyser University Professor, Harvard University