---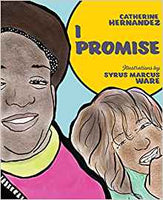 by Catherine Hernandez and Syrus Marcus Ware (illustrator)
Arsenal Pulp Press
10/15/2019, hardcover
SKU: 9781551527796
Catherine Hernandez's debut novel Scarborough was shortlisted for a Lambda Literary Award, the Edmund White Award for Debut Fiction, and the Trillium Prize, Ontario's richest literary award. Her latest, I Promise, is a beautiful tribute to the resiliency of diverse families.
Featuring tender-hearted illustrations by renowned artist Syrus Marcus Ware, I Promise captures with love and honesty the intimate moments of parenting in all their messy glory -- from dealing with a kid who doesn't want to brush their teeth to looking under the bed for monsters to cuddling after a long day. This charming picture book showcases the many shapes, sizes, and colors that families come in, emphasizing that every queer family starts with the sacred promise to love a child.
Author:
Syrus Marcus Ware is a Vanier Scholar, visual artist, activist, curator, and educator. Syrus's work explores social justice frameworks and black activist culture. Syrus is a core-team member of both Black Lives Matter Toronto and Blackness Yes!/Blockorama. Syrus has won several awards, including the TD Diversity Award in 2017. Syrus is a PhD candidate at York University in the Faculty of Environmental Studies.