---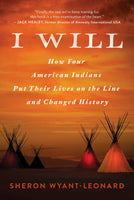 by Sheron Wyant-Leonard
Arcade Publishing
7/20/2021, hardcover
SKU:  9781951627768
A unique portrayal of four members of the American Indian Movement--with fascinating full-color images created by Leonard Peltier !
In I Will, Sheron Wyant-Leonard weaves the personal recollections of four members of the American Indian Movement--Leonard Peltier, Dennis Banks, Dorothy Ninham, and her husband Herb Powless--into a unique narrative to expose their trials and tribulations over the course of two decades.
When the last gunshots of the Indian Wars of the nineteenth century faded away, a dark and desperate time began for Native American people. Poverty, neglect, and hopelessness hung over the land. But as the seventies dawned, a powerful movement for change by newly urban Indians was born with the words "American Indian Movement." This story includes a brief look at their childhoods as told by the people who lived it, including their government boarding schools, reservation life, the fight against termination, and the founding of their resistance with building takeovers and government saboteurs, a prison escape, including the largest FBI manhunt in history. They walked the line between courage and fear and changed the direction of Native history forever.
Reviews:
"While working in a community radio news department during the 1970s, I aired many reports on AIM-related events. Back then, I thought I knew what was going on. After reading I Will, I realize I barely knew a single thing." --Jill Hannum, former News Department co-director, KPFA-FM
" I Will humanizes history, uplifting the tenacious and courageous love that mobilized a world-changing movement for Native rights. Wyant-Leonard reveals the inspiring life spark carried through extraordinary individual leaders who lit the way for future generations." --​Gabrielle Tayac, Ph.D., Associate Professor of Public History at George Mason University
About the Author:
Sheron Wyant-Leonard was born in the heart of the Jim Crow south in Montgomery, Alabama, to an Army Airborne Ranger and a mother who worked for the Department of Defense. Drawn to the arts at a young age, she worked in the American theatre with legendary director Adrian Hall and studied with renowned playwright, Donald Freed. Her play about the AIDS Quilt, titled In Stitches, was an early indication of her serious talent. She takes on the hard issues of Human Rights and the human struggles that have often evolved unfairly in American society. Her stories examine the heart, written with the clever hand of a dramatist. Her characters understand both the humor and the profound sadness born of a poverty not of one's own making. She resides in Chattanooga, Tennessee.