---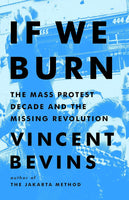 by Vincent Bevins
PublicAffairs
10/3/2023, hardcover
SKU: 9781541788978
The story of the recent uprisings that sought to change the world - and what comes next
From 2010 to 2020, more people participated in protests than at any other point in human history. Yet we are not living in more just and democratic societies as a result. IF WE BURN is a stirring work of history built around a single, vital question: How did so many mass protests lead to the opposite of what they asked for?
From the so-called Arab Spring to Gezi Park in Turkey, from Ukraine's Euromaidan to student rebellions in Chile and Hong Kong, acclaimed journalist Vincent Bevins provides a blow-by-blow account of street movements and their consequences, recounted in gripping detail. He draws on four years of research and hundreds of interviews conducted around the world, as well as his own strange experiences in Brazil, where a progressive-led protest explosion led to an extreme-right government that torched the Amazon.
Careful investigation reveals that conventional wisdom on revolutionary change is gravely misguided. In this groundbreaking study of an extraordinary chain of events, protesters and major actors look back on successes and defeats, offering urgent lessons for the future.
Reviews:
"[This is] hands down the best account - scholarly or journalistic - of the protest decade (2010-2020) across the world. Absolutely brilliant, sensitive, thoughtful, and so wonderful to think with ." -- Laleh Khalili
"The best book I read this year... If We Burn is a globetrotting journey of historical reportage. Bevins conducted more than 200 interviews in 10 countries. Attentive to local particularities, he diligently retells how each protest developed before zooming out to ponder the implications for the 'mass protest decade' and consider what would be required for such movements to succeed in the future" -- Eamon Whalen, Mother Jones
About the Author:
Vincent Bevins is an award-winning journalist. He reported for the Financial Times in London, then served as the Brazil correspondent for the Los Angeles Times before covering Southeast Asia for the Washington Post. His first book, The Jakarta Method, was named one of the best books of 2020 by NPR, GQ, the Financial Times, and CounterPunch, and has been translated into fifteen languages. Vincent lives in São Paulo.