---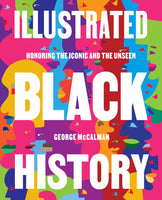 by George McCalman
HarperOne
9/27/2022, hardcover
SKU: 9780062913234
A gorgeous collection of 145 original portraits that celebrates Black pioneers--famous and little-known--in politics, science, literature, music, and more--with biographical reflections, all created and curated by an award-winning graphic designer.
Illustrated Black History is a breathtaking collection of original portraits depicting black heroes--both famous and unsung--who made their mark on activism, science, politics, business, medicine, technology, food, arts, entertainment, and more. Each entry includes a lush drawing or painting by artist George McCalman, along with an insightful essay summarizing the person's life story.
The 145 entries range from the famous to the little-known, from literary luminary James Baldwin to documentarian Madeline Anderson, who produced "I Am Somebody" about the 1969 strike of mostly female hospital workers; from Aretha Franklin to James and Eloyce Gist, who had a traveling ministry in the early 1900s; from Colin Kaepernick to Guion S. Bluford, the first Black person to travel into space.
Beautifully designed with over 300 unique four-color artworks and accessible to readers of all ages, this eye-opening, educational, dynamic, and timely compendium pays homage to Black Americans and their achievements, and showcases the depth and breadth of Black genius.
Reviews:
"In Illustrated Black History, George McCalman brings all of his brilliance--his whole heart, his keen artistic eye, his command of the written word--to this dazzling celebration of Black people. Not since Toni Morrison's The Black Book has Black history been so vibrantly or imaginatively catalogued. We are all richer and wiser for it."
-- Natalie Baszile, bestselling author of Queen Sugar and We Are Each Other's Harvest
"In this vibrant, inclusive collection, McCalman honors the legacies of 145 Black Americans whose societal contributions cannot be overstated. His profiles and watercolors are wonderfully diverse, including both live and deceased; recognizable and lesser known; contemporary and historic... Accessible, important, and germane to the very fabric of American life, this moving collection of illustration and biography artistically reflects struggle, achievement, and perseverance... An enthusiastic, informative, and essential ode to Black American history." -- Kirkus Reviews
About the Author:
George McCalman is an artist, graphic designer, and creative director. His studio, McCalman.co creates long-lasting brands for clients across arts, lifestyle, food, and mobile media. He is a senior lecturer in graphic design at California College of Art and is the author and illustrator for the San Francisco Chronicle's monthly "Observed" column. He lives in San Francisco.