---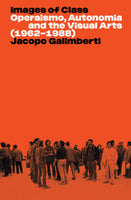 by Jacopo Galimberti
Verso
9/06/2022, paperback
SKU: 9781839765292
The first overview of the unique encounter between artists and the prominent Marxist current Workerism, also known as Operaismo
During the 1960s and 1970s, Workerism and Autonomia were prominent Marxist currents. However, it is rarely acknowledged that these movements inspired many visual artists such as the members of Archizoom, Gordon Matta-Clark and Gianfranco Baruchello.
This book focuses on the aesthetic and cultural discourse developed by three generations of militants (including Mario Tronti, Antonio Negri, Bifo and Silvia Federici), and how it was appropriated by artists, architects, graphic designers and architectural historians such as Manfredo Tafuri. Images of Classsignposts key moments of this dialogue, ranging from the drawings published on classe operaia to Potere Operaio's exhibition in Paris, the Metropolitan Indians' zines, a feminist art collective who adhered to the Wages for Housework Campaign, and the N group's experiments with Gestalt theory.
Featuring more than 140 images of artworks, many published here for the first time, this volume provides an original perspective on post-war Italian culture and new insights into some of the most influential Marxist movements of the twentieth and twenty-first centuries worldwide.

Reviews:
"A tremendous achievement: through critically exploring what it terms 'visual practices and communicative strategies, ' Images of Class uncovers crucial, hitherto ignored dimensions of the workerist adventure." -- Steve Wright, author of Storming Heaven: Class Composition and Struggle in Italian Autonomist Marxism
"Masterful in sweep and molecular in detail, Jacopo Galimberti's volume draws upon thorough archival work and a nuanced understanding of Italy's post-war extraparliamentary left. As the book's incisive case studies reveal, the period's proliferating images of class were matched by an assault upon established classes of imagery. The defiance of capitalist wage relations found an equivalent not merely in the iconography of social contestation, but new formats and forums, new means of circulation and dissemination, from architectural interventions to graphic novels to ephemera which refused institutionalization. Galimberti shows us a time and place when the collective 'class vernacular' of operaismo and autonomia had not yet ceded to something else. We can still rail against that something else, in Italy and elsewhere: urban gentrification, critical grandstanding, a bloated art market, the aesthetic apotheosis of the individual. But this book helps us remember what came first and what might, one day, come again." -- Ara H Merjian, New York University
"Rich in innovative insights, Images of Class proposes a fresh approach to a tumultuous historical period that generated original political theories and social movements. This inspiring and beautiful volume is a must-read." -- Leopoldina Fortunati, author of The Arcane of Reproduction
About the Author:
Jacopo Galimberti is an art historian and Assistant Professor (tenure-track) at IUAV (Venice).