---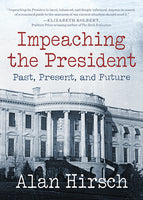 by Alan Hirsch
City Lights Books
11/20/2018, paperback
SKU: 9780872867628
It seems quite possible that President Trump will be impeached. Concerns about connections with Russia's attack on our elections, obstruction of justice, illicit business deals, and compromised classified intelligence dominate the news. Robert Mueller's fast-moving investigation has already resulted in arrests, indictments, guilty pleas, and high-level cooperating witnesses. Anything can happen.
In response to the complexity of a rapidly evolving situation, constitutional scholar Alan Hirsch offers clear and to-the-point guidance for all matters relating to removing a sitting president--from the Founder's constitutional protections against executive criminality, and the instructive impeachment stories of presidents Andrew Johnson, Richard Nixon, and Bill Clinton, to the particular ways that Donald Trump may be legally vulnerable, and the possibilities and limitations of presidential self-pardon.
Illustrated throughout with historical engravings, photographs, and other impeachment documentation, Impeaching the President does not advocate for any particular course of action, nor make any predictions about Trump's future. Rather, this concise, timely, and accessible analysis offers historical lessons and a perspective on how the Constitution provides stability during times of political uncertainty and crisis.
About the Author:
Alan Hirsch received his BA from Amherst College and JD from Yale Law School. He is the chair of the Justice and Law Studies program at Williams College. Alan has authored several books, including For The People: What the Constitution Really Says About Your Rights (coauthored with Akhil Amar) and A Citizen's Guide to Impeachment, The Duke of Wellington, Kidnapped!. His work has appeared in the Los Angeles Times, Washington Times, Newsday among many other places.