---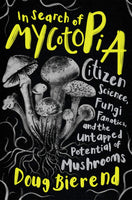 by Doug Bierend
Chelsea Green Publishing
11/11/2023, paperback
SKU: 9781645021490
From ecology to fermentation, in pop culture and in medicine--mushrooms are everywhere. With an explorer's eye, author Doug Bierend guides readers through the weird, wonderful world of fungi and the amazing mycological movement.
In Search of Mycotopia introduces us to an incredible, essential, and oft-overlooked kingdom of life--fungi--and all the potential it holds for our future, through the work and research being done by an unforgettable community of mushroom-mad citizen scientists and microbe devotees. This entertaining and mind-expanding book will captivate readers who are curious about the hidden worlds and networks that make up our planet.
Bierend uncovers a vanguard of mycologists; growers, independent researchers, ecologists, entrepreneurs, and amateur enthusiasts exploring and advocating for fungi's capacity to improve and heal. From decontaminating landscapes and waterways to achieving food security, In Search of Mycotopia demonstrates how humans can work with fungi to better live with nature--and with one another.
Reviews:
"The author's sharp ear for dialogue imbues his word portraits with vivid detail... Mushrooms are having a moment. [A] natural sequel for the many readers who enjoyed Merlin Sheldrake's Entangled Life." --Library Journal
"Fungi are nature's alchemists, the circulatory and nervous system of the forest ecosystem, and the providers of nutrition, healing, remediation, and spiritual awakening. In this compelling book, Doug Bierend awakens the myco-nerd in each of us, uplifts the stories of queer, Black, and young citizen scientists, and challenges us to ameliorate our fungal illiteracy. Bierend convinces us that the healing of our planet requires that we remember the fringe and oft-forgotten fungal kingdom." -- Leah Penniman, cofounder of Soul Fire Farm, author of Farming While Black
"Nothing is impossible if you bring mushrooms into your life, and reading this book is a great way to begin your journey." -- Tradd Cotter, author of Organic Mushroom Farming and Mycoremediation
"In Search of Mycotopia is as wondrous and hopeful as its awe-inspiring subject. Doug Bierend deftly extends the mycelial threads of his curiosity into the many communities that congregate around fungi, from academic researchers to hipster entrepreneurs to Indigenous groups engaged in cultural mycoremediation. The resultant book is a masterpiece of intersectional fungal anthropology that will send you running for the mushroom stand at your nearest farmers market--and may even inspire you to venture forth on some forest forays yourself." -- Ben Goldfarb, author of Eager
About the Author:
Doug Bierend is a freelance journalist writing about science and technology, food, and education, and the various ways they point to a more equitable and sustainable world. His byline appears in Wired, The Atlantic, Vice, Motherboard, The Counter, Outside Magazine, Civil Eats, and numerous other publications.