---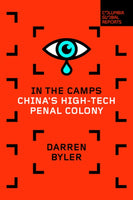 by Darren Byler
Columbia Global Reports
10/12/2021, paperback
SKU: 9781735913629
How China used a network of surveillance to intern over a million people and produce a system of control previously unknown in human history
Novel forms of state violence and colonization have been unfolding for years in China's vast northwestern region, where more than a million and a half Uyghurs and others have vanished into internment camps and associated factories. Based on hours of interviews with camp survivors and workers, thousands of government documents, and over a decade of research, Darren Byler, one of the leading experts on Uyghur society and Chinese surveillance systems, uncovers how a vast network of technology provided by private companies-facial surveillance, voice recognition, smartphone data-enabled the state and corporations to blacklist millions of Uyghurs because of their religious and cultural practice starting in 2017. Charged with "pre-crimes" that sometimes consist only of installing social media apps, detainees were put in camps to "study"-forced to praise the Chinese government, renounce Islam, disavow families, and labor in factories. Byler travels back to Xinjiang to reveal how the convenience of smartphones have doomed the Uyghurs to catastrophe, and makes the case that the technology is being used all over the world, sold by tech companies from Beijing to Seattle producing new forms of unfreedom for vulnerable people around the world.
Reviews:
"While structural racism in the context of Chinese settler colonialism in Xinjiang evokes similar racisms in different parts of the world, Byler documents and analyzes how the new, digitized racialization of China's Muslim minorities -- an 'automated racialization' in a vast system of internment camps -- has taken the meaning of dehumanization to a completely different level. Stark and devastating, and yet filled with empathetic detail for the victims, this book is required reading for anyone interested in racial justice across the world. Byler's book shows us that this is not just China's reality, but a global reality where the violence of one colonial regime cannot be disaggregated from global complicity." -- Shu-mei Shih, President, American Comparative Literature Association, and Edward W. Said Professor of Comparative Literature, UCLA
"It's true, no matter how much the Chinese government denies it -- in this richly sourced book, Darren Byler describes not only how members of Muslim ethnic groups in China are thrown into re-education camps just for practicing their religion, but also how those outside the camps are deprived of their freedom by a web of electronic and human surveillance. Built around true personal stories, the book is a riveting -- and terrifying -- account of one of the worst human rights abuses being perpetrated in the world today." -- Andrew J. Nathan, Class of 1919 Professor of Political Science, Columbia University
"In the Camps offers an urgent and deeply humane intervention in a discourse often clouded with nationalism and Sinophobia. While presenting an unflinching picture of the Islamophobic human rights abuses perpetrated against Muslim populations in Xinjiang by the Chinese state, Byler highlights the ways in which these practices draw from familiar settler colonial logics, which work to construct racialized 'others' against whom exploitation and harm is made permissible." -- Meredith Whittaker, Minderoo Research Professor at NYU and Faculty Director of the AI Now Institute
About the Author:
Darren Byler is Assistant Professor of International Studies at Simon Fraser University in Vancouver, British Columbia, and the author of the forthcoming book Terror Capitalism: Uyghur Dispossession and Masculinity in a Chinese City. He writes a regular column for SupChina and his work has appeared in The Guardian, Foreign Policy, Noema Magazine, Prospect Magazine, Guernica, ChinaFile, as well as many academic journals. He received his PhD in anthropology at the University of Washington.