---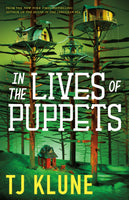 by Tj Klune
Tor Books
4/25/2023, hardcover
SKU: 9781250217448
New York Times bestselling author TJ Klune invites you deep into the heart of a peculiar forest and on the extraordinary journey of a family assembled from spare parts.
In a strange little home built into the branches of a grove of trees, live three robots -- fatherly inventor android Giovanni Lawson, a pleasantly sadistic nurse machine, and a small vacuum desperate for love and attention. Victor Lawson, a human, lives there too. They're a family, hidden and safe.
The day Vic salvages and repairs an unfamiliar android labelled "HAP," he learns of a shared dark past between Hap and Gio -- a past spent hunting humans.
When Hap unwittingly alerts robots from Gio's former life to their whereabouts, the family is no longer hidden and safe. Gio is captured and taken back to his old laboratory in the City of Electric Dreams. So together, the rest of Vic's assembled family must journey across an unforgiving and otherworldly country to rescue Gio from decommission, or worse, reprogramming.
Along the way to save Gio, amid conflicted feelings of betrayal and affection for Hap, Vic must decide for himself: Can he accept love with strings attached?
Inspired by Carlo Collodi's The Adventures of Pinocchio, and like Swiss Family Robinson meets Wall-E, In the Lives of Puppets is a masterful stand-alone fantasy adventure from the beloved author who brought you The House in the Cerulean Sea and Under the Whispering Door.
Reviews:
"In the Lives of Puppets is a powerful story of humanity and what survives after we're gone. Do the new inheritors of this earth forge a new path? Or are they destined to repeat the mistakes of their makers? TJ Klune has created an enchanting tale of Pinocchio in the end times, offering up hard truths alongside humor, kindness, love and, most important, hope." -- P. Djèlí Clark, author of Ring Shout
"Readers who loved Klune's previous works will find plenty of the author's trademark charm, heart, and bittersweet." -- Library Journal, starred review
"A wholly charming post-robot-apocalypse retelling of Pinocchio. Speculative fiction readers will fall in love with this whimsical, bittersweet fable." -- Shelf Awareness, starred review
About the Author:
Tj Klune  is the New York Times and USA Today bestselling, Lambda Literary Award-winning author of The House in the Cerulean Sea, Under the Whispering Door, The Extraordinaries, and more. Being queer himself, Klune believes it's important--now more than ever--to have accurate, positive, queer representation in stories.