---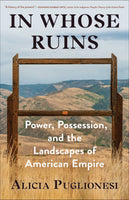 by Alicia Puglionesi
Scribner Book Company
04/05/2022, hardcover
SKU: 9781982116750
In this "first-rate work of historical research and storytelling" (Kirkus Reviews), four sites of American history are revealed as places where truth was written over by oppressive fiction -- with profound repercussions for politics past and present.
Popular narratives of American history conceal as much as they reveal, presenting a national identity based on harvesting treasures that lay in wait for European colonization. In Whose Ruins tells another story: winding through the US landscape, from Native American earthworks in West Virginia to the Manhattan Project in New Mexico, this history is a tour of sites that were mined for an empire's power. Showing the hidden costs of ruthless economic growth -- particularly to Indigenous people -- this book illuminates the myth-making intimately tied to place. From the ground up, the project of settlement, expansion, and extraction became entwined with the spiritual values of those who hoped to gain from it. Every nation tells some stories and suppresses others, and In Whose Ruins illustrates the way American myths have overwritten Indigenous histories, binding us into an unsustainable future.
Historian Alicia Puglionesi "makes a perfect guide through the strange myths, characters, and environments that best reflect the insidious exploitation inseparable from American dominion" (Chicago Review of Books). She illuminates the story of the Grave Creek Stone, "discovered" in an ancient Indigenous burial mound; oil wells drilled in the corner of western Pennsylvania once known as Petrolia; ancient petroglyphs that once adorned rock faces on the Susquehanna River, dynamited into pieces to make way for a hydroelectric dam; and the effects of the US nuclear program in the Southwest, which contaminated vast regions in the name of eternal wealth and security through atomic power, a promise that rang hollow for the surrounding Native, Hispanic, and white communities. It also inspired nationwide resistance, uniting diverse groups behind a different vision of the future -- one not driven by greed and haunted by ruin.
This deeply researched work traces the roots of American fantasies and fears in a national tradition of selective forgetting. Connecting the power of myths with the extraction of power from the land itself reveals the truths that have been left out and is "a stimulating look at the erasure and endurance of Native American culture" (Publishers Weekly).
Reviews:
"Few books by historians, particularly historians of science and technology, are page turners, but In Whose Ruins is just that. This is an elegantly written narrative of the mythologies and horrors of settler-colonialism in the founding and expansion of the United States, exterminating or displacing the Indigenous nations of the continent. It is a history of the present." -- Roxanne Dunbar-Ortiz, author of An Indigenous Peoples' History of the United States
"A novel reading of American history as an endless chain of ideologically sanctioned extractions from the land... Page after page, Puglionesi finds some strange twist on history used to justify theft and genocide, and it makes for a fascinating tale. A first-rate work of historical research and storytelling." -- Kirkus
"The ravages of Manifest Destiny constitute much of America's story. This narrative history from poet, professor, and scholar Puglionesi delves into how white settlers found resources on Native land and overtook it for capitalistic gain, focusing on four geographic areas... Puglionesi's book ought to be widely studied." -- Booklist
About the Author:
Alicia Puglionesi is a writer and historian. She earned a PhD in the history of science, medicine, and technology from Johns Hopkins University in 2015 and has taught at Johns Hopkins and MICA. Her first book, Common Phantoms: An American History of Psychic Science, explores how the practices of seances, clairvoyance, and telepathy both questioned and reinscribed social boundaries. She lives in Baltimore.