---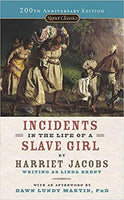 by Harriet Jacobs
Signet Books
1/5/2010, paperback
SKU:  9780451531469
"It has been painful to me, in many ways, to recall the dreary years I passed in bondage. I would gladly forget them if I could. Yet the retrospection is not altogether without solace; for with these gloomy recollections come tender memories of my good old grandmother, like light fleecy clouds floating over a dark and troubled sea."
One of the most memorable slave narratives, Harriet Jacobs's Incidents in the Life of a Slave Girl illustrates the overarching evil and pervasive depravity of the institution of slavery. In great and painful detail, Jacobs describes her life as a Southern slave, the exploitation that haunted her daily life, her abuse by her master, the involvement she sought with another white man in order to escape her master, and her determination to win freedom for herself and her children. From her seven years of hiding in a garret that was three feet high, to her harrowing escape north to a reunion with her children and freedom, Jacobs's Incidents in the Life of a Slave Girl remains an outstanding example of one woman's extraordinary courage in the face of almost unbeatable odds, as well as one of the most significant testimonials in American history.
Reviews:
"One of the major autobiographies of the African-American tradition."--Henry Louis Gates, Jr.
About the Author:
Harriet Jacobs (1813-97) was a reformer, Civil War and Reconstruction relief worker, and antislavery activist. Born a slave to mulatto parents in North Carolina, she was only fifteen when her master, Dr. Flint, began his pursuit of her. This abuse and the resulting oppression from Flint's wife forced Jacobs to take drastic measures to protect herself, so she encouraged a relationship with Mr. Sands, an unmarried white lawyer for whom she bore two children. When the situation with Flint became intolerable, she left her children and took refuge in a small garret of her grandmother's house, where she lived for seven years. She finally escaped to the North, and her children eventually followed. She managed to support herself while evading numerous attempts by Flint to return her to slavery. At age forty, Jacobs was purchased and then emancipated by an abolitionist who was Jacobs's employer and friend. During the Civil War, Jacobs began a career working among black refugees. In 1863, she and her daughter moved to Alexandria, where they supplied emergency relief, organized primary medical care, and established the Jacobs Free School--black led and black taught--for the refugees. After the war, they sailed to England and successfully raised money for a home for Savannah's black orphans and aged. Then they moved to Washington, DC, where they continued to work among the destitute freed people, and her daughter worked in the newly established "colored schools" and, later, at Howard University. In 1896, Harriet Jacobs was present at the organizing meetings of the National Association of Colored Women.