---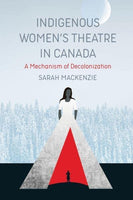 by Sarah MacKenzie
Fernwood Publishing
1/19/2021, paperback
SKU:  9781773631875
Despite a recent increase in the productivity and popularity of Indigenous playwrights in Canada, most critical and academic attention has been devoted to the work of male dramatists, leaving female writers on the margins. In Indigenous Women's Theatre in Canada, Sarah MacKenzie addresses this critical gap by focusing on plays by Indigenous women written and produced in the socio-cultural milieux of twentieth and twenty-first century Canada.
Closely analyzing dramatic texts by Monique Mojica, Marie Clements, and Yvette Nolan, MacKenzie explores representations of gendered colonialist violence in order to determine the varying ways in which these representations are employed subversively and informatively by Indigenous women. These plays provide an avenue for individual and potential cultural healing by deconstructing some of the harmful ideological work performed by colonial misrepresentations of Indigeneity and demonstrate the strength and persistence of Indigenous women, offering a space in which decolonial futurisms can be envisioned.
In this unique work, MacKenzie suggests that colonialist misrepresentations of Indigenous women have served to perpetuate demeaning stereotypes, justifying devaluation of and violence against Indigenous women. Most significantly, however, she argues that resistant representations in Indigenous women's dramatic writing and production work in direct opposition to such representational and manifest violence.
About the Author:
Sarah MacKenzie is an Anishinaabe/Métis/Scottish, feminist scholar and activist based in Ottawa. Her work focuses particularly upon redressing colonial violence by engaging with decolonial aesthetics.